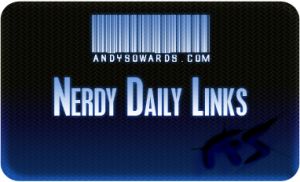 Thanks to everyone that made yesterday a GREAT day for AndySowards.com since it was the 50th Daily Links Post here! I again Would like to thank all of the Subscribers(There are a lot more of you now!), daily visitors, and twitter friends for making it a success so far! I am proud to keep those nerdy web techy web developer/designery Resources coming to you each day! Todays post is JUST as huge as the last! So Go get Info Overloaded!

Web Developer/Designer Inspirations
Freaking HUGE post with some Freaking AMAZING wallpapers. Best wallpapers all Month. Seriously.

Some really cool designers! Inspirational!

Amazing Interior/Exterior design and Furniture.

Freaking awesome Business Card Inspiration. I love these type of posts. Anyone know where to get Business Cards like this? I want some!

Probably the MOST inspirational and beautiful Graphics I have seen ALL WEEK! …Nay…MONTH!

Really Inspirational image post.

Some amazing Watercolor Art.

Creative Workspaces of Designers, Some are nice, some are messy. Best part is, they are real.

Designs inspired by The Tag. Very nice

Design for the Good of Mankind.

These top brand websites really open your eyes. Very nice collection!

Interesting concept, basically makes you hunt for the content, to where you focus on one thing at a time.

I Would like to take this time to personally thank all of the Subscribers, daily visitors, and twitter friends for making it a success so far! 50th!

Web Development Nerdy Daily Links For 11/05/2008 :50th Post! – Today is a Milestone for me here at AndySowards.com! This will the the 50th Daily Links post since this blog started about a little over a month and a half ago! I Would like to take this time to personally thank all of the Subscribers, daily visitors…
Social Networking
FaceBook and LinkedIn Connections – Its not What you know, but WHO.

Own facebook. With Twitter? Read on!
After Effects Tutorial
Really NICE smoke effect for After effects. LOVE AE. Great tutorial.
CMS Stuff
More CMS'es. Textpattern is a PHP-based open-source content management system that is popular with both bloggers and website owners.

List of some of the Top CMS's around. Which one do you use?
Design
Static Design is dead. Ready Why!
Freebies!
Free Bohemian Rhapsody Wallpaper! Nice!

Cool Avatars Icon set! For Free!

Really nice Free Theme on Smashing Magazine
Business/Marketing
Great guidelines for Building Incredibly Successful websites! Awesome list!
Google Stuff
So many feeds. So little space. Consolidate your Content. with Google Reader.

Gmail ANYWHERE with FireFox plugin.
WordPress
This came in handy yesterday when dealing with WordPress and a client that needed a static welcome page that required some php programming.

This just in! Beta 2 Is ready!

You can test 2.7 Beta Now, if you like.

Video Preview of WordPress 2.7 release
SEO Tips
SEO Techniques YOU should use! With all these SEO Tips we have had lately, you should be an SEO MASTER by now.

Explanation of what Black Hat SEO is, and why its bad.
Sketchy Tutorial
Really creative and Cool Sketchy Photoshop tutorial
Programming
NotePadd ++ Exceptionally good Text Editor. Original Notepad Blows.
Laugh of the Day
Hilarious. Spoon Graphics Begins to add AJAX to site.

Cast your votes! Is Obama a Mac or a PC?

LOL Scantron test gone terribly wrong.

I think we found it… The Best web design company ever?! LOL!!
Freelance Web Developer/Designer Resources
Some days this is the biggest question I ever have. Check it out!

Start your career off on the right track with these typefaces!

Nice example of a fancy drop down that doesn't look tacky. very nice

In this day and age we are overworked and under rested. STAY ENERGIZED!! with these tips!
Yahoo, Is a Failure.
Yahoo Owned. Google FTW.

Yahoo said the "For Sale" sign is still on its front lawn and that Microsoft should buy the company. What a bunch of failures.
Web Tools
Converts RSS feeds into PDF's and emails them to you! Kinda cool, if you love PDF's.

Pretty Cool, automatically gives you color palettes by typing in keywords. It then uses Yahoo Images to find the most used colors for those keywords. Kinda crazy.
Amazon top Books of 2008
The Adobe Photoshop Lightroom 2 Book for Digital Photographers (Voices That Matter)
Scott Kelby Makes Amazons Best Books of 2008 List! Congrats to him!
Twitter Stuff
Add your favorite links if you are Passionate about Twitter!

Big Growth in Small Companies like Twitter.

Sequel to part 1 – Part 2, is that twitter is your friend, yet an addictive time spender
Video Game Nostalgia
Wow this brings back the memories….
jQuery Stuff
Smart Navigation with jQuery Tutorial
Directories To Join
Be a part of This Web Designers Directory!

Join this web design directory today!
Photoshop Tutorials
Really good Snow tutorial!

Nice Smoke effect photoshop tutorial video

Cool typography poster video tutorial

Site Redesigned – Some really great tutorials are here also.
Blogging Tips
Mediatize your blog!

Awesome Premium Shopping Cart Theme that Integrates with Paypal
Contests
Group Writing Project for Charity!
CSS Tips
CSS can help Web Designs that suck.
News You Need To Know
This truly is all the news you need to know.
Google Android News
Aircard too expensive? Try Tethering – Basically connecting your phone to your laptop for internet connection, Developers are finding workarounds to make this the standard.
If you like this, You'll love These.