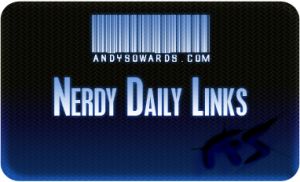 Happy Monday! Its the start of another week, Lets make it a great one! Start the week off right and go get your daily nerdy resources!! I would like to thank all of you for supporting Daily Links and sticking with us for so long!! Now Get your Daily Nerdy Web Development/Design Links!!
Web Development/Designer Resources, Inspirations and Entertainment!!
FREAKIN Amazing Workstations! I need to tidy mine up!

Don't miss the best of last week!

Awesome place for wordpress themes!

@mayhemstudios featured on the GreyBucket!

Wikipedia New Moderation Policy!

Walk down Apple memory lane

Monster.com sucks

Hooray! Go Twitter! Thats a high value, now get to the monetization!

We all have side projects, make them work for you! Great article

Win more Clients with Time Tested Techniques!!

Great tips for getting over a un-motivating slump!

Noo! The weekend is almost over! Get the most out of today! Here comes your Sunday Learning and Resources to review! I would like to thank all of you for

Awesome and Inspirational stories of ASCII Art!!

Good read for Focusing your SEO Efforts

This site has helped me hash out a whole lot of SQL/PHP/Javascript/Ajax syntax over the years, and I thank them for that, great debugging resource

Microsoft Cutting 5k jobs, end of an era?

Noo! The weekend is almost over! Get the most out of today! Here comes your Sunday Learning and Resources to review! I would like to thank all of you for

Why are you people still dialing 411 and paying for it?

Good Explination of RSS in Plain English

Awesome Blogger Templates!

use twitter for business PDF – Free!

10 things you should know when doing freelance!

Awesome Free CSS Drop-Down Menu Framework!

Awesome Elements of Branding Table of Elements!

Way to Destroy your Twitter Brand

Awesome Photoshop Actions!!!! Time savers!

Bread Crumb Inspirations! Nice

Great resources for SEO!

Great Manual Directory Submission Technique!

Build Strong Twitter Relationships

Good read from an Art Director!

Joel Comms Facebook Deleted by Facebook – Interesting Read

History of the Internet! Animated!!

Nice Typography Cheat Sheet for Web!

wow, interesting read for a tweeter
If you like this, You'll love These.