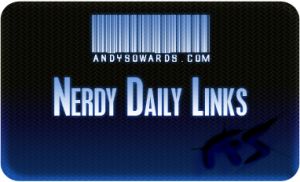 Its Tuesday! The worst day of the week is over! Now get productive with some daily resources!! I would like to thank all of you for supporting Daily Links and sticking with us for so long!! Now Get your Daily Nerdy Web Development/Design Links!!
Web Development/Designer Resources, Inspirations and Entertainment!!
Get a hold on customer frustration

High Color Texture Packs! Nice!!

Beware of Mobile Malware!

Inspirational Minimalist Dark Websites!!

improve javascript efficiency!

Easiest jQuery Plugin for Sliding images and Content! Nice!!

Draw Perfect Round Corners

Land more comments on your blog!

Improve your design skills with these AWESOME Tutorials!!

Great post to help you decide to choose the right CMS for your project!

Sticky Tape Brushes!

25th anniversary of Mac!

I won!

EVERY Designer should download these PDFS!

Awesome Interview with Chris Brogan!

write your life story in 140 characters or less!

Celebrities love twitter

Good tips for protecting the precious Admin area of WordPress!

Awesome way to redirect phone traffic to different places

A good read!

FirePHP Is Awesome!!

Creative ways to display date archives! Archives don't have to be boring

Awesomely Creative ways to display time!!

AWESOME Social Media Wallpaper Pack!

Interesting read about 'ugly' web design

Awesome jQuery Feed Menu!

REALLY NICE Use of jQuery!

Whats new with JS 1.7??

Ways twitter can make money!

Good Usability review!

AWESOME Multi Touch Display!!

Careful what you torrent!

WordPress and jQuery powers unite!!

Great tutorial of type paths and shapes in photoshop!

Great list of web resources!

Good tips for centering Floats in CSS!

Good tips for making wait times feel a ton shorter!

AWESOME iPhone/iPod Touch Interface for WordPress!!

A Good look at Usability Conscious Link Styles in CSS!

Really cool WordPress Theme!!

A Good read about what you miss from your day job when going full-time freelance!

LOL Awesomely creative gadgets

Great post, Tattooed(Branded) Designers!!

Use PHP To Linkify that feed!!

Great Designer Interview – Graham Smith!

Good read for any blogger!

Why is your competition doing better than you? Here are a few possible reasons.

Awesome Interview with Jonathan Snook!

MORE AWESOME Photoshop Web Layout Design Tutorials!

Nice Photoshop action to make your screenshots pop!!

Business Cards, Postcards and Canvas Prints Giveaway!

Get more work – Warm up your calls!

Web Development Nerdy Daily Links For 1/26/2009 – I would like to thank all of you for supporting Daily Links and sticking with us for so long!! Now Get your Daily Nerdy Web Development/Design Links!!

awesome BEFORE/AFTER of many popular sites from years ago to now

Pretty slick online image editor! Give it a try!

Great list of Fonts used most by Professional Designers!

Good usability trick, Change the form input styles on focus with jQuery!

A Good read – Are you?

Nice Animation! Very minimalist but effective! Part 3

Nice Animation! Very minimalist but effective! Part 2

Nice Animation! Very minimalist but effective! Part 1

Awesome Aura Effect!

Very Creative social bookmarks!

WP Video series AND a FREE BOOK? Nice!

Web Development Nerdy Daily Links For 1/26/2009 – I would like to thank all of you for supporting Daily Links and sticking with us for so long!! Now Get your Daily Nerdy Web Development/Design Links!!

Client need control? Try Cushy CMS

FriendFeed Tips for Twitter Users, Like you and me!

Increase those followers!!

Another great designer Interview! – Charlene Chua

Inspirational Interview with Pete Harrison

REALLY Nice Digital Space Paintings, beautiful!

Make something nice for your significant other

Awesome OPEN SOURCE Apps for Designers!

NICE eCommerce Templates!

Google's not the only note taking pony in town! Check out the alternatives!

Really good beginners guide to Output Buffering with PHP

These rules ROCK. Logo Design created along these rules will turn out great

Great Video – Twitter in Plain English
If you like this, You'll love These.