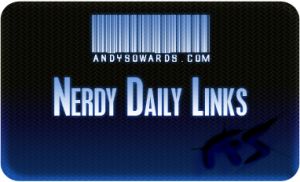 Happy Thursday! Its almost the end of the week! So Get Motivated and Productive before it ends! I would like to thank all of you for supporting Daily Links and sticking with us for so long!! Now Get your Daily Nerdy Web Development/Design Links!!
Web Development/Designer Resources, Inspirations and Entertainment!!
how to develop FF Extension!

Interviews with some great Twitterers

Web Development Nerdy Daily Links For 1/28/2009 – Gain some more skills and info before the week is over! I would like to thank all of you for supporting Daily Links and sticking with us for so long!!

Good CSS Tip Screencast!

Awesome site with AWESOME Robot toys! Design inspiration all over the place here!

PSD to WP Conversion! Very good read, part 1

Great place to submit your design posts! New Design Float?

very well done tutorial, explains Horizontal and Vertical CSS Navigation

Very Inspirational Artwork!

Great Post with some Amazing sites that use javascript to its full potential!

Very Creative and Colorful Wallpapers!

Great Resources for Flickr Addicts!

Social Media Survival Guide!

Best Business Card Contest! Enter By March 1st, 2009!

Make Planning simple with 'Deadline' Awesome new app

Great Tools for making your Website BETTER!

AWESOME Guide to Napping – Nap like an Expert 😉 haha

GREAT Resource for Learning Adobe Illustrator

I got featured on the TweepleBlog! Its a cool blog that features tweeple!

So what happens if the newspapers go bye bye? Good read.

Great read about RT'ing and going viral on Twitter

Good read about the 'register_sidebar' and adding multiple

3D WordPress Icons

I choose Quality

Great XKCD LOL!

LOL Twitter Comic, Great!

Awesome Web Typography Tools! Great Resource!

Its Hump Day! The middle of the week! The rest will fly by! Gain some more skills and info before the week is over! I would like to thank all of you for

NICE Content Slider Tutorial!

Awesome examples of Web Typography!

Great resource for Cross-Browser Transparency!

FireScope from SitePoint. Extend your FireBug HTML/CSS reference material

Awesome Vector Repeat Patterns!

Interesting Gmail fact!

Cool Image Preview Tooltip jQuery Plugin!

Awesome read about Sprites and Web Design!
If you like this, You'll love These.