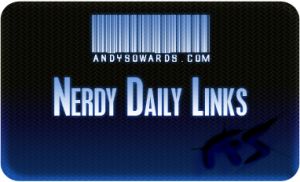 TGIF! Its the end of the week, Make today count! Today we have a ANOTHER HUGENORMOUS Episode of Daily Nerdy Links, I swear, so much good content this week the Daily Links keep getting BIGGER!! Now Get your Daily Nerdy Web Development/Design Links!!
Web Development/Designer Resources, Inspirations and Entertainment!!
Fake parking tickets lead to malicious site! Interesting!

History of Twitter

Organize your thoughts with this list of awesome tools!

Quick and easy tutorial on building a print stylesheet!

So what server technology is that web app using? Find out now with Wappalyzer!

Awesome Image Search service!

Wozniak Back to work!!

Quick! Binary in 60 seconds! GO!!

Interesting read about Torrentspy and Court

More Awesome WP Themes! for 2.7!

Good read! Interesting!

Awesome Greasemonkey Scripts for enhancing YouTube!

Fav Photo? Canvas it!

Interesting research of how Effective Super Bowl Ads Are

Great HDR Street Shots! Inspirational!

Great Tips for tracking conversations on twitter!

Dont SPAM Twitter – EVER

Subscribers vs Traffic – Good read

Great Read for jQuery and Greasemonkey Integration

Awesome App for Sharing and Collaboration!

Increase your workload as a Freelancer! Great tips!

Cool Twitter Services to try out!

Create a Simple 'Tweet it' Button!

VERY CREATIVE and Useful Photoshop Brushes!!

Good read about setting goals in Social Media

Awesome Thumb Drive! Wood! w/ post it notes? LoL

Wonder if my wife would wear these? Probably not

iPhone Earrings!

Slick Design – Pretty Invoicing Software

Interesting Hack for the Non FF Browsers

Good read about Social Advertising with StumbleUpon

Myspace struggles in Korea – News? LoL

Really inspirational Indian Artwork!

AWESOME IDEA! Snow Logo!

Great Roundup of some Quality Posts!

Great read about colors and the emotions they bring with them.

Freaking Awesome Color Scheme Designer App!

Sweet new Twitter App – Share music on Twitter!

Awesome Solar Blinds! Great idea!

Great Roundup of Rounded Corner Techniques with CSS!

Top Celebs on Twitter!

KABOOM C4 Tag Team Member Interview! Check it out! Calvin rocks! Follow him @mayhemstudios

Great Read about what makes a Quality Font!

Need some UX Help/Feedback? Follow these guys on twitter!

Great roundup of the Web from January! Good stuff!

Great read about doing MORE!

Great Read about P2P and how it can affect Business for the better!

I want Gmail Stickers! Do you? Go get em!!

Awesome site that lets you bookmark media!

Great Read about Being a Ninja, in Writing!

Awesome Illustrated Site Roundup!

Awesome tutorial on Re-Creating the new Gmail button nav

Need a job? Try these LinkedIn Tips!

SWEET! Analytics app for iPhone!!

Excellent resource! Need to design a nice wallpaper for myself!

Simple is always better.

Inspirational List of Beautiful Navigation menus!!

Great read about HTML Emails, clients often don't understand the work that goes into these things.

Is this the future?

Great roundup of Some Cool sites for the week!

Awesome Wallpapers of FWA!

What doesn't Google know?

Good read about the Truths of Freelancing!

Tweet Cool Characters and enhance peoples interest!

Good list of jQuery Tips!! Good resource

Some of the Best jQuery Tutorials out there!

Good question, and a Good read.

GREAT RESOURCE – popular framworks for CSS and how to get started!

Photoshop Magnet Kit and Magnet Board! These are cool!

Good Graphical Explination of Javascript in jQuery!

Need a Job? Follow these people on twitter

Are 'Click here' Links dead?

Really nice Free Font!

Thursday is the turning point! So close to Friday! Today we have a ANOTHER HUGENORMOUS Episode of Daily Nerdy Links to power you through! Now Get your Daily

Thursday is the turning point! So close to Friday! Today we have a ANOTHER HUGENORMOUS Episode of Daily Nerdy Links to power you through! Now Get your Daily

Web Development Nerdy Daily Links For 2/05/2009 – Thursday is the turning point! So close to Friday! Today we have a ANOTHER HUGENORMOUS Episode of Daily Nerdy Links to power you through!

Skype Pimpage!

These truly are some breathtaking Brushes!!
If you like this, You'll love These.