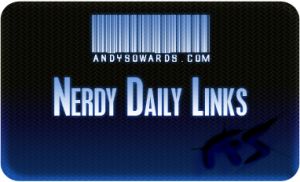 Happy Monday! Today will determine the rest of your week! So make the most of it and learn something new today! Now Get your Daily Nerdy Web Development/Design Links!!
Web Development/Designer Resources, Inspirations and Entertainment!!
Is your Web Markup a Nightmare? check out these tips to keep it in check!

Totally Huge post with some GREAT Comments page Hacks for WordPress

Dalai Lama on Twitter! Nice!

Great Interview with an amazing web designer/Illustrator!

A Great read about something I have been wondering myself, Incorporating as a Freelancer.

Great collection of WordPress Resources – Can't have too many these days

Awesome Font Type Resources for Web Designers! Excellent! I use What the Font sometimes myself

There are some pretty good CSS Templates here! Check it out!

Great twitter shirt

Make sure you manage your conflict on Twitter, no one likes a negative nelly!

Best ways to display twitter updates! Great examples!

Fantastic collection of High Resolution Widescreen Wallpapers! Get some inspiration on your desktop!

Skills you should know! CSS Top 9 Essentials! Good list

Great Usage of Letterpress on these Business Cards!

WordPress Plugins that we just cannot live without!

Fantastic Collection of CSS Designs of the year! – Top 100

Get Big or Go Home, Check out these Tips for growing Social Media Pr Presence !

WOW These are just plain inspirational uses of an Error page!

Useful collection of Excellent scripts to use for Image Cropping on your site/web app!

Great resources for Designers to Download! Amazing list of stuff!! Brushes/textures/ etc

Awesome and Unique App that lets you share your links as tabs!

Some simply Stunning Minimalistic Designs! Another great and inspirational roundup!

Awesome cards! Creative and inspirational

Great resources for Twitter Education

LOVE Simple Photography!

Nice Lettering Effect Tutorial!

Cool use for Tumblr – T-shirt store!

Demographic Breakdown of Social Media Sites – Facebook/Myspace/Linkedin/Flickr, Age/Sex
If you like this, You'll love These.