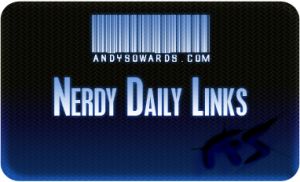 Power through the week! Its Tuesday! You have a new roundup of Daily Nerdy links to Enjoy! TODAYS POST IS HUGE!!!! Now Get your Daily Nerdy Web Development/Design Links!!
Web Development/Designer Resources, Inspirations and Entertainment!!
GREAT Read for Print Designers that have to do T-Shirts

Curves of the Ampersand – So Beautiful – Good Article

Great sites for FREE TV!

Ohio = FAIL

Marketing On Twitter – Good Read

Pirate Bays First Day In Trial!

Custom CSS Signatures in your MAIL! (Mac)

Really Creative Beds!

Freebies all over the place! Badges, Illustration, Vectors OH MY!

Free SMS Updates from your twitter!

Stay Motivated while freelancing! Good read

GREAT Questions with answers for Freelancers! Most Common Q's

MORE FREE ICONS! They are everywhere!

Amazing examples of Macro Photography! Stunning! Inspirational!

WordPress Tips for the PROS!

I Want this Sketchbook!

5 Big Mobile Startups Left in Barcelona!

GREAT Post! Get paid on time!

Some REALLY Nice WordPress Themes!

GREAT RESOURCE! 99 Sites ALL DESIGNERS need to know about!

Crazy LOLCats going twitter crazy?

Very Indepth Tutorial on Creating a Professional Logo!

AMAZING and Funny Illustrations! LoL

Awesome read about Writing!

Really? That many still don't have a website? interesting

CSS Fixes EVERYTHING!

Good read if you want to learn Programming, but don't know where to start.

Want to create High Quality Textures? Check this.

Great read about CSS Sprites! Very useful!

Use these Web Tools for Better CSS!

Great Look at Minimalism Around the Web!

AWESOME FF Themes!

Inspirational Animal Photography! Very Nice!

Make progress on those goals!

Really AWESOME FREE PSD Downloads! High Quality too!

Great 3D Crystal Icon Tutorial!

Take a look at some of these HTML Form Validators!

Awesome Typography that will make you go BLIND!

Good Buzz Generating Blog Ideas!

Facebook says ALL YOUR BASE ARE BELONG TO US – Even if you quit!

Adding HTML5 to your website – Good post

Good lessons learned running first Blog

No time for Twitter or Facebook?

Great questions to ask when starting a Web Design Project!

Tons of Free RETRO Resources!

Interesting look into Movie Web Design sites and Current Trends

AWESOME and INSPIRATIONAL collection of 3D Themed Web Design!

Great tool for converting bitmap images into VECTOR! Magically!

iFart suing 'pull-my-finter' iPhone app

Great read about User Experience and 'The Sweet Spot'

Awesome UX Patterns Explorer! Very well done

Awesome google chrome Stop Motion video!

The making of a mascot! Good read

Will Wiki Fail?

Awesome People to follow on twitter – TONS of resources are pumped out by these guys!

Awesome Web Services and Tool for Designers!

Promote your designs here!

Afraid of CSS and Web Standards? Read this.

Check out the Best of Last Week on the web!

Hilarious and Creative Photography. Good view!

Get started with GIMP! Great resources!

So many fonts today. Stock up! This site has some good fonts! Free mostly

INCREDIBLE Lighting Effect Brush Sets!

Tons of cool fonts that start with A

GREAT FONTS! So add these FREE fonts to your collection!

These are some very HOT iPhone Concept Designs, I hope some of these get made.

Collection of Very Useful Ajax Auto Suggest Scripts!

AWESOME Minimalistic Icon Sets!!

Good tutorial for creating a flash music player with XML!

Has twitter impacted your Blogging?

Write Better CSS NOW! With these tips!

Awesome Galleries with Web Designs that Move!

Good PHP Reference eBook from Beginner to Intermediate PHP5!

Great CSS tools for reducing your workload!

Great interview with someone running a web development company
If you like this, You'll love These.