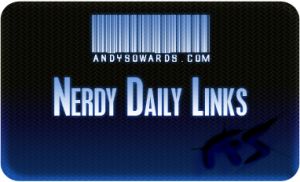 TGIF! The Friday is here! I would like to thank all the loyal Nerdy Daily Links viewers and promoters for making this week such a good week! To reward you, I believe that this is probably one of THE LARGEST Web dev/design links posts I have ever done. Which means that yes, this is ANOTHER HUGE POST!!!! Now Get your Daily Nerdy Web Development/Design Links!!
Web Development/Designer Resources, Inspirations and Entertainment!!
Semantic Web Markup Guide!!

Cool Text Effect TUtorial – Galaxy style text effect!

Awesome Typography Designs! Delicious!

Awesome Graphic Design Blogs!

Awesome FREE APPS Every New PC Needs!

Let Google Host your jQuery!

Everyone loves appreciation! So Appreciate!!

Quick and easy tutorial for Customizing an ajax drop down in dreamweaver!

SUPER LIST! Find, network and Influence people with social media!

Great Marketing Ideas!!

Good CSS Standards and Best Practices to follow! Nice!

More resources for creating your own jQuery plugin!

More awesome Icon Sets!

Want windows 7 look on XP? Check this out!

Ajax using PHP Tutorial!

Awesome plugins to highlight and display your 'code' proudly!!

Quick and easy jQuery plugins!

Get Control – CSS

iPhone internal Bluetooth adapter communicates with your mac now!!

Good resources to learn how to…Anything!

Add yourself to the Designer Directory!

Tons of good flash tutorials! Very nice resource!

AWESOME SITE – Tracks what text is being copied from your site!

Computer Science Resources! NICE!

Great tutorial on creating your own jquery plugin!

Driving Traffic to your Design Blog! NICE!

Amazing After Effects Tutorial – Underground Blast!

Beginner MYSQL Resources!

Great look at Time Tracking and Invoicing Mac Apps – Great for freelancers on mac

You might not know this about jQuery – Good read to catch up!

SIMPLY STUNNING – That is all I can say about these buildings.

Awesome wooden Dell – Taking on Mac Mini?

Awesome Romantic Disaster Brushes!

Inspirational WordPress Blogs!

Google releasing electric car? This car is hot.

Save inDesign CS3 Files in Legacy format!

Good read about HTML5 and Gmail

MUST SEE! Creator of Twitter releases Sites Founding Documents (basically the layout scribbled on notepads! NICE!)

Contest! Transform your company Logo Design to Helvetica!

Great tools and services for Web Designers to use!

AWESOME Paper textures!

Cool site that shows highlights in the world of advertising, marketing and design – Good links

Great read for WP Users! Shortcodes!!

Dealing with large webforms – We all encounter this – good read

Don't make these usability mistakes!

Keep the best of the office life! Good Freelancing read

GREAT Insight to how fonts work in different browsers

GREAT List to have when launching a website!

Good read to try and fix a dead pixel *NOTE: One of my friends tried and failed to make this work, how was your experience?

So much typography today, these examples are stunning!

Another great list of the best sites of last week – Inspirational!

Inspiration in the beautiful color of GREEN!

More awesome typography resources!

A Good laugh for programmers 🙂

Good read about Multiple pages (duplicate content)

Well? how much is your creative time worth? Good read

GREAT After Effects tutorials for the Video Editor in you!

Find typography inspiration now!

TONS of Javascript Resources! Very nice!

Creative view of Typography for Programmers – Inspiration!

Great Read – Must see tips for being a more efficient designer!

Awesome Tutorials for designing POSTERS!

GREAT Tools to use to keep track of your online presence and who is talking about you!

Awesome list of things you didn't know you could do! Like play Space Invaders in Open Office!!
If you like this, You'll love These.