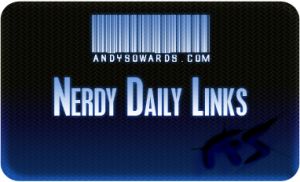 The week is going nicely for me, how bout you? Well Its Tuesday and there is a HUGE daily links post waiting for you down there, go start diving into the links!! Thanks everyone for all the love and support, I appreciate you all! Now Get your Daily Nerdy Web Development/Design Links!!
Web Development/Designer Resources, Inspirations and Entertainment!!
People still want to invest in your start up!

Bout time!!

Nice Vectors as always!

LOL a cake of resignation

HILARIOUS list of sarcastic remarks LOL

Great place to post and hunt for web jobs!

Awesome inspirations

Not enough links here? Check out my bro Brandons blog for more!

Gmail rocks – Check out getting things done! NiCE tricks

Quick and easy jQuery Modal window tute

Great sites with awesome photoshop resources

Twitter rocks. so yes.

Great bug tracking software

Good coverage of Plugg 2009

Great look at a JS version of XEyes for fun

Great read about custom corners with CSS! Part 1

Great read about custom corners with CSS! Part 2

Interesting jQuery Translation plugin that uses the google API! NICE!!!

Interview with Colorburned! Great guy

Great read about tracking outbound links!!

Inspirational read

Great video for finding local tweeters!!

Fabric textures!!!!

Awesome text editors for developers!!

Great tutorial on image rollovers that don't change the layout

Great After effects tutorial sites!!

More about wireframes

Hells no

Awesome tutorial for creating a story scene

Facebook now more friendly for business

AWESOME CSS tips for newbs

Great read for improving your public speaking

AWESOME Black wallpapers!

Great HTML email newsletter templates – great find

STUNNING icon sets – beautiful

Digg founder launches new site – WeFollow – user generated twitter directory

Filter that twitter!

jQuery Plugin – ImageSwitch – good look

Awesome business cards

Great look at web design in wireframes

Good resource for Grid Design – Toolbox

Social Networking for pets?

Great interview with a great designer – Inspirational

Good update on the happenings at SXSW

Awesome whitespace Tee!

Good read for those who juggle blogging with work/family/commitments

Great resource for any freelancer

Great read – some great web designers and developers take on the future of Open Source CMS – MUST READ

Awesome list of the top 5 web design tools out there

Great read – best practices for designing a creative and inspirational twitter background design

Great list of Apps for Dev's on a shoestring

Awesome tutorial for adding randomness to your photos! Very inspirational

BBC Launching fake attacks?

Quick and easy photoshop layers trick

Very inspirational place to find WordPress Sites

Cheap new Mouse Computer!

Quick and easy Illustrator tutorial – working with text

Freelancers get on this webinar!

Good marketing goes a long way

Great tips for speedier wp theme development

Inspirational collection of images!

Hilarious XKCD – Don Quixote!

Great galleries for Logo Inspiration!

Ways to lose follows in 10 easy steps – Twitter lol

Twitter is killing the UK Newspapers in stats

TweetDeck more than twitter. Facedeck? LoL

Great CSS Help – Cheat Sheets

Quick and easy tutorial for putting Safari 4's tabs back where they were before.

Even Shaq has a twitter shirt!

Excellent look at best practices for building a Social News Website

Great review of the Apple Time Capsule

Awesome JavaScript Techniques for better UI!

Great Design Inspiration – Emigre Magazine

Nice little PHP script that tells you what the date of any upcoming weekday will be. Great for weekly activities to keep the date dynamically up to date without weekly editing

Web Development Nerdy Daily Links For 3/16/2009 – Happy Monday! Ready for the week ahead? How bout you warm up with todays Daily Links??

Awesome business card designs! Amazing!

Great look at the best of SXSW

Great read – Freelancers, you need a contract! This post actually gives you an example contract

Are you part of a botnet? Interesting read – crazy stuff
If you like this, You'll love These.