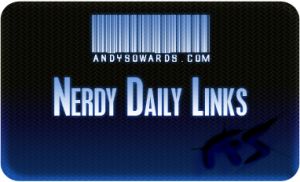 Its the weekend! Followfriday was a blast, I would like to thank everyone for all of their kind recommendations yesterday, I was truly honored. So Today you get HUGE Nerdy Links post! So Enjoy them and Enjoy the day!! Thanks everyone for all the love and support, I appreciate you all! Now Get your Daily Nerdy Web Development/Design Links!!
Web Development/Designer Resources, Inspirations and Entertainment!!
Great tips for content heavy web design!!

You don't need money to start a business!

Great read – PHP and Typography!

twitter fail LOL how to lose your job with 1 tweet

Freaking awesome USB Sticks

Would you steal your friends Identity?

Awesome new widget!

Freaking huge

twitter pwnz

Top female tweeters!

Using PC and miss your mac? Add the mac dock to your PC

OMG the old gaming nerd in me just re-awakened.

My brain is exploding

Great twitter tools that you probably aren't using

AMAZING PSD Resources!

Great tutorial for using jQuery and CSS for toggle effects

Amazing logos created with the famous Helvetica font

Gmail tools yo!

iPhone developer legitly getting screwed

Awesome elements of Really Great converting copy

Pwn 2 own is truly an interesting conference/contest

Good job chrome!!

The real reason you write – finally

Awesome jQuery resources for spicing up your website

Cool tutorial for adding a RT counter to your posts! NICE!

Freaking SWEET Flash techniques!!

Freaking sweet iPhone Wallpapers!

Awesome Gmail Labs features you need to implement!

This. is. awesome.

Fail whale – explained!

More sweet business cards

Awesome service tells you what the hashtags really mean

Awesome article on creating a REST API with php

Great read for parsing the google analytics data with PHP

GREAT LIST! Part 2

Fight browsers fight!

Awesome Typography Videos!!

Awesome rockets in web design!

great interview w 21yr old SA Mobile App developer

funny twitter video lol

great wireframing resources

Some nice creative search box designs!

Good read about the value of social media marketing and networking – it is truly valuable

Awesome read – designers role in the process

Awesome js resources for all!

Awesome lighting effects design!

Awesome using CSS3 tricks!

Great read – butterfly effect of twitter

another site to track the awesome #followfriday action!

Awesome digital paintings!!

Logo of the day!

Awesome graphic designer folios!

AWESOME iPhone App!!

Awesomely outrageous and over the top web design! Excellent!

Awesome typography design in advertisements

Nice super duper news scroller tutorial!

Awesome game cover art

Awesome business card designs – unique!

Cool tutorial for IE8'ing your wp blog

Cool, but why… lol

More awesome people to follow on twitter!

Twitter has explosive growth

Awesome sites of the week!!

great resource for Ruby on Rails beginners

Another great collection of Chris Spooners Favs from the week!!

Great read about #followfriday!
If you like this, You'll love These.