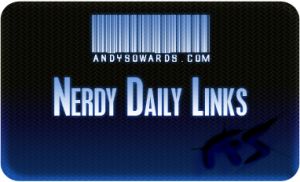 Tuesday already?!! Todays post has some good Typography, CSS, Photoshop, Usability, and jQuery Tips. Not to mention a ton of inspiration. So I hope you enjoy it and spread the word! Thanks everyone for all the love and support, I appreciate you all! Now Get your Daily Nerdy Web Development/Design Links!!
Web Development/Designer Resources, Inspirations and Entertainment!!
great anatomy and glossary of Typeface

Great list of common mistakes in web design

Great designer – Great designs – Inspiration

Match breaks out an iPhone app

Good read about Google Maps

LOL this is just funny

Netflix pays for you

Open source is the future

Better Microblogging tool for you and me?

Great read about Guy Kawasaki

Billboard wins!

Awesome, nature rocks.

SWEET been thinking about the possibilities of this.

Great 3D typography effect tutorial – Photoshop

Very inspirational 3D Graphic Designs

Great read and examples of great 404 error pages!! Nice!

LOVE reflective photography

Awesome frozen photographs – Inspiration

Random art – Inspirational – all kinds of crazy stuff

Part 1 of the lighting effects inspiration!

Great inspirational lighting effects!

Tons of great Paper Textures

Awesome Paint Brush styles!

Awesome resource – screencasts for scaling rails

Get geared up for this years Summer of Code!

freaking PRICELESS typography and font resource collection

Freaking sweet blogs you gotta follow!

Awesome cheat sheets for us designers

Awesome design aggregator for designer tweeters

Can't get enough biz card inspiration eh?

Add a RT button to your blog, nice!

Freaking sweet business cards, digging the 3D card

No explination needed – HILARIOUS

Stand out of the blogosphere

Crazy new 3D world for the iPhone

Twitter for business?

Awesome photoshop design layout tutorials w/ techniques! Very good resource

Things that Designers Like

Everyone wants macs!!

Great logo design tips for the n00bs

Awesome grungy illustration w/ stains, good tutorial

Good Q & A about UI

Crazy info

Amazing resources for photoshop

Facebook getting lots of haters on the redesign

Some are worse off than we thought – interesting read

Really inspirational website illustrations!

Amazing menu examples

Awesome javascript solutions for CSS Problems!!

Great read for designing logos

Great tips for sustaining online profits

GREAT READ – good principles for great web design

Freaking awesome vector skate deck design tutorial!!

Great photoshop actions!!!

Really easy and quick plugin tutorial – great read

GREAT CSS Techniques you can't live without! NICE

What would you do if you were CEO of twitter?

Twitter Etiquette rules to remember

Separate your work from your social media personalities

GREAT Icons design tutorials

The essentials for the new browser

Great vectors for Web Design!

Access iPhones hidden CAPS LOCK

Freaking great design enhancing jQuery Plugins

Awesome images search filter in Google Images

Pen tool master in 30 mins! NICE!

Awesome typography inspired web design!

Smartphones win at PWN2OWN

Great interview with Chris Spooner – great guy and great designer!

Awesome grunge rock poster creation tutorial!

LOL great read about IE8 and how not to launch a browser

AWESOME Tumblr themes!

More AWESOMELY Modded computers

GREAT Web Design books to look into this year

Fast Humans – Randomly entertaining

Awesome advertising for some Awesome Laptops

Great tools for Web Dev Testing! Nice!

LOL i love how the only real use for this device is to make COPS more enjoyable to watch lol

Awesome Web Designs with a Collage theme

Great adobe air apps to boost productivity

first $2000 car in India

GREAT read – great tip – drop cap your blog

Things NOT to do while brainstorming

Twitters future a Social CRM?
If you like this, You'll love These.