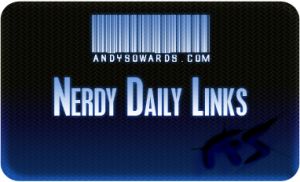 TGIF! Today is the best day of the week! Its #followfriday! Todays post has a ton of TUTORIALS for Photoshop and Illustrator, even a few jquery ones too! Something for everyone! so I hope you enjoy it and spread the word! Also to commemorate #followfriday a List of some of my fav Tweeters are below as well! Thanks everyone for all the love and support, I appreciate you all! Now Get your Daily Nerdy Web Development/Design Links!!
My Fav #followfriday Picks (in no particular order) – This is going to be updated weekly now, so its gonna get pretty huge
Web Development/Designer Resources, Inspirations and Entertainment!!
Great read about Get Satisfaction

Very nice software and app websites!!

AWESOME Website headers!

Wi-Fi From the Sky??

Cool WP Plugin!

DiggBar available!

EXCELLENT read as to the future of freelancing is bright!

Export your google contacts!

Great read – Measure a links marketing value

Gmail search gets an upgrade!

Me and Baby Sebastian wanted to say Hi to everyone on Twitter on Twitpic

Sebastian wants to say Hi to all the Nerdy Links subscribers too 😉

Interesting example of a jquery file tree ran by a database in ASP.NET

AWESOME Icon sets for Mac

Great Idea – Stolen iPhones call police

Some cool Marketing and Advertising ideas!

Sweet border brushes!

Quick and easy Color 2 black and white conversions in photoshop

Great tools for capturing design inspiration!

Awesome video – co-founder of Adii Rockstar

Awesome hex color twitter directory! Get added!!

Great read about the design/development process

Show off your office space – Creatively!

GREAT tips for making your search results rock

Interesting read about the cool things iPod Touch and iPhone can do with wi-fi

How to use Gradients and then a HUGE collection to download, then use 😉

Great list of Wikipedia Lists!

Great stuff from my bud Brian Cray

AWESOME examples and inspiration of – Being Creative

Microsoft fail

Awesome! Salesforce.com integrates with twitter!

Awesome people to follow on twitter!!

Great Design Inspiration resources

Tweaking the vista logon screen

Ignore the title LOL Awesome Illustrated designs 😉

Stunning collection of some top quality tutorials

Awesome motion blurs!!!

Nice Montage tutorial! Very cool

Awesome web page design tutorials

Great read about promoting without being the bad guy

Great roundup at the daily mac

SWEET Google tricks that can save you time

Great resources for Graphic Design Theory

Simpsons on stamps eh? I dunno bout you, but im tired of the simpsons. I grew up on them.. now they are old..

LOL nice cartoon

Great stuff for Illustrator Fanatics

AWESOME advertisements

Good read if you are considering premium wordpress theme design

Awesome typography game!

Really slick speedometer gauge tutorial!

Great read for FireBug and PHP fanatics

SWEET bloody text tutorial

Inspirational Logos – draw inspiration from them
If you like this, You'll love These.