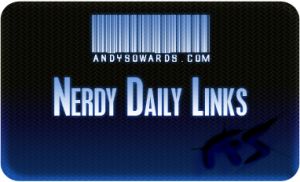 Wow, what a crazy week last week, Was not feeling well most of it so thats why the Daily links was missed a few days

My apologies! But it is back and better than ever! So check out todays links and pass it on! Thanks!! Thanks everyone for all the love and support, I appreciate you all! Now Get your Daily Nerdy Web Development/Design Links!!
Web Development/Designer Resources, Inspirations and Entertainment!!
Awesome iPhone wallpapers!!!

soooo many WP+Twitter Plugins!!!

Google the new Pirates?

Twitter accounts are precious these days, back yours up

Awesome hand Drawn Sites!!!

Interesting site that tracks your twitter friends

Good read on Branding

Awesome broken link checker for WP!!!

Freaking amazing Screensavers – and I never use SS's, boy am I missing out apparently!!

Awesome twitter app

Stunning Photography Portfolios

Celebrities and Twitter – How will this affect things?

Honored to be mentioned in here with some AWESOME tweeters

Nice and simple Photoshop Levels Tutorial

Excellent roundup of some of the best and Free Mac apps available

GREAT Form Layouts – Inspiration

Interesting Widgets!

Huge collection of some of the best Photoshop Tutorials for Effect

Awesome 3D Model Sites!

Inspirational Poster Tutorials! – Photoshop

A place with a ton of PHP Scripts!

lol more Celeb Twitter Drama

Another awesome CSS Gallery to show off your stuff!

omg. I want.

Nice old school interface!

Hate Quicken? Try these alternatives!

Freaking sweet FF Extension ideas

Good and Free PHP Uptime monitor scrip

Amazingly inspirational list of top dollar website acquisitions

Excellent read about branding and promoting your blog
If you like this, You'll love These.