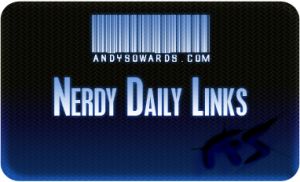 This week is going pretty well so far! Hope the same for you! Happy Hump Day! Todays links post contains a ton of different things, something for everyone for sure! So check out todays links and pass it on! Thanks!! Thanks everyone for all the love and support, I appreciate you all! Now Get your Daily Nerdy Web Development/Design Links!!
Web Development/Designer Resources, Inspirations and Entertainment!!
Awesome typographic Visualization!

Is retweeting dumb?

Teaching is a great way to learn

AMAZING COLLECTION of the coolest flash pre-loaders on the net

I can watch this for EVER!

Sweet plugins for your WP Blog

Awesome Foreign Words!

Collection of most pirated TV Shows lol

New FF Beta!

Awesome tutorial for shortcuts of the type tool

Now these are cool headphones.

Freaking sweet workbook!

Awesome Rainbow Colors

Awesome furniture designs!

Awesome Sliding Boxes w/ Custom Captions!

This is a crazy grid system!

Cool screen recording software for OS X

Sweet look at the Future and Portable ID's

inspirational interview with Envato CEO

Great read – Wheres the Art At?

LOL Adobe Pillows!

Web Devs, Power Up!

awesome commandments for twitter!

Awesome look at OOP In PHP

Sweet look at CSS3 Templates and jQuery

Awesome Hand Logos!

Sweet AJAX Effects

Sweet Vector Fonts!

Awesome habits of web 2.0 sites

Awesome UI Interface Tutorials – Photoshop

Awesome RSS Creation Tools!

Awesome wooden gadgets!

Awesome scripts and tutorials for your portfolio!

Awesome tutorials – Stunning – Photoshop

Great tips for better readability!

Good look at some Portfolios!

Great roundup of Icon sets

iPhone owners goof off?

Good read about brainstorming

Interesting Twitter Services

This is just crazy

Awesome vector Texture tutorial!

Awesome Blue Site Inspiration

Awesome companies to work for!

LOL swine flu humor
If you like this, You'll love These.