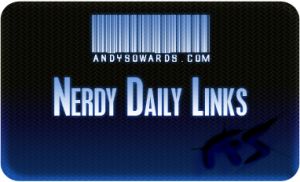 Great weekend. getting lots of quality family time in! How is yours going? Hope you are well! Lots of random awesome stuff from the web yesterday, some of it is hilarious, some great tutorials, nice inspiration, just a solid group of links! So check out todays links and pass it on! Thanks!! Thanks everyone for all the love and support, I appreciate you all! Now Get your Daily Nerdy Web Development/Design Links!!
Web Development/Designer Resources, Inspirations and Entertainment!!
Nice look at building an online store with WP

Awesome look at the Twitter and TinyURL API to make something cool

Radio really didn't keep up with the times very well

Great roundup of iPhone twitter Apps

Awesome Battery Hacks! – Top 10 Battery Hacks, Tips, and Tricks

Awesome Logo Resources!!

Need some new Invoicing services? Try these!

Sweet! The Mystery of CSS Sprites

GREAT Screencasts for Web Devs

Great ways to convert PSD to HTML/CSS

LOL Twitter in RL

Awesome tips for when you feel like snapping some street photography

Awesome Photoshop Image Enhancing tutorials

Great look at creating a "Live" visitor counter

Awesome CSS Menus

Quick and easy tutorial for making slick shiny buttons

Great read about using twitter to your advantage

Excellent collection of AJAX Tutorials

Great read about 'Digital Nomads' – Link from @iamkhayyam

Freaking awesome stool designs

Awesome text editors for programmers and devs

Awesome look at simplifying web usability

Awesome Collection of the Best Of the Web in April
If you like this, You'll love These.