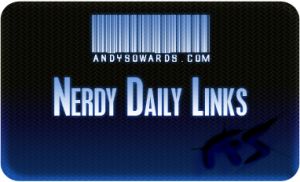 Great week so far! How is yours? Todays links post is HUGE, Had a lot of resources thrown at me and they all rock. So check out todays links and pass it on! Thanks!! Thanks everyone for all the love and support, I appreciate you all! Now Get your Daily Nerdy Web Development/Design Links!!
Web Development/Designer Resources, Inspirations and Entertainment!!
Cool service, sexy web design also

very interesting people to follow on twitter!

Great tips to be a PS Blackbelt

Ultimate collection! – Light swirl photoshop brushes

Great read for those who wear many hats!

EXCELLENT historical reference of photoshop

Cool tutorial for creating and skinning a photo gallery with flex and AS 3.0 w/ flickr integration

Reznor beats down Apple app store

Great paper textures!

Great photoshop web layout tutorials!

HUGE Collection of FREE FONTS!

Awesome vector sketchbook tutorial

GREAT Logo tips!

New 3D iphone location map app!

This is awesome

SWEET After effects tutorial

Awesome Collages!

Awesome design articles and inspiration from May

Awesome look at designers bags Part 1

Everyone loves discounts

Quick and easy Do's and Don'ts of modern web design! Brilliant!

Awesome sites for Daily Video Inspiration!

Get Chuck Season 1 DVD!

Awesome HUGE CSS Designs in 08

Awesome post on the essential wordpress plugins!

Hate the annoying trackback spam on wordpress? Stop it.

Apple has new live streaming specs

Great read about a great mac app

Awesome Modern Web Designs!

Interesting read – Sort of obvious tho

Awesome flickr wordpress plugin!

Freaking awesome photoshopped images

Awesome and FREE WordPress theme

Open office and google docs sync??

More bad news for newspapers

Good look at the best and worst Gmail features!

Amazing techniques for your WordPress theme!

STUNNING comic book art

Awesome Google and Yahoo Cheat sheets!

Awesome brochure design tutorials!!

lol, design float isn't doing too well lately

Awesome paper websites!

Be a better designer with these sites!

Get paid for your value

Great way to switch out Adsense

Amazing Marketing Ideas that freelancers can use!

Awesome real time web services!

facebook takes down most popular profiles

Javascript Animations framework!

Freaking sweet business cards

Excellent contact form layout tutorials

Great technique for sorting with AJAX

Stunning photos w/ illustrations

Excellent Gravity effect with jQuery

Great ways to get setup to play with flash

Impressive CSS Layout with jQuery

Great reasons to be listed in google maps

Great ways to keep your business rolling in

If you like space…

Effective usage of comments!

Bigger Netbooks?

Winners of Inspiration

Great sites for free fonts

Awesome Niche site designs!

AMAZING typographic logos!

Awesome Designers to follow on twitter!

This is freaking cool

Great interview with the Legendary Richard Branson

Awesome Typography in websites!

Good look at creating a website Change Request form!

Great read – Starting a web design blog

Tweak Windows 7!

Good quote.

Great uses of PHP!!

Awesome look at whats in a Designer's bag!

Awesome Photoshop tutorials – clean modern website mockup

Excellent use of the parallax.

Amazing list of Parallax-Effect usages

Good look at CSS Selectors for beginners
If you like this, You'll love These.