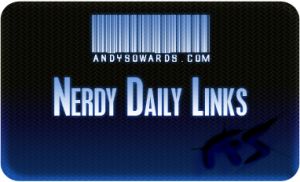 Happy Wednesday!! Todays links are HUGE. We have some great WordPress Themes, CSS Tricks, and inspirational Typography in the list, also a ton of great and inspirational Designer Interviews. Great list of Freebies as well! Hope you enjoy it and pass it to a friend! Thanks everyone for all the love and support, I appreciate you all! Now Get your Daily Nerdy Web Development/Design Links!!
Web Development/Designer Resources, Inspirations and Entertainment!!
Awesome Grungy Music texture!

This is just an interesting read for entrepreneurs

lol. gun made of bacon.

Great ways to share a blog post!

Cool Star Rating jQuery Plugin Tutorial!

Nice Joker Collection of Illustrations!

excellent read – improve branding with content

Awesome product mockup tutorial

Great read – Elegance of imperfection

Great Business Cards – Very Bold!

Be Confident in your brand!

Very creative manhole covers!!

Awesome Mail Icon Photoshop tutorial!

GREAT resource for best practices of List Items

SWEET Icon sets!

Awesome sites for Design Inspiration!!

Awesome typography stuff here!

Very popular web design blogs

Awesome Glossy Icons!

cool CSS Style organizer!

Great Read – Land your dream job – interview

Great read for Branding if you are a web professional!

Stunning CSS Effects!!

Solid typefaces of 2008!

Start testing WP 2.8!

Great rules for Designers in SEO

Great tips for mastering something that can so easily go tacky

Awesome fonts for programming

Funny ways to impress your clients lol

Stunning Art!! pops off the screen!

Great AJAX Scripts!!

Great read – some awesome bloggers featured

Awesome blue tees!

Awesome tip for designing a cover using spot metallic!

Submit your creative business logo!

Awesome brand personlization

Some great people to follow on twitter!

Paypal being sneaky? Join the discussion!

simple and useful jquery tip

Trendy 2009 Logos – should we follow their direction?

Great places for freebies!

Very creative web designs!!

Great CSS Galleries

Awesome sites for inspiration – WordPress

awesome ways to get motivated

Freaking sweet Circle Logo Collection

Cool and Simple Version Control!

Great HTML tips for beginners

Great look at advanced password recovery tools

Awesome site dedicated to pitting jquery vs. MooTools – Lots of documentation

Cool Tilt shift photo creator

Interesting new eCommerce service
If you like this, You'll love These.