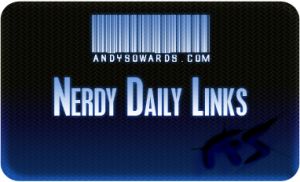 Happy Monday! Hope you all had a great weekend! Todays Links contain some great jQuery and CSS resources, There is even a ton of Inspirational links in there too so check those out! Hope you enjoy todays post and pass it to a friend! Thanks everyone for all the love and support, I appreciate you all! Now Get your Daily Nerdy Web Development/Design Links!!
Web Development/Designer Resources, Inspirations and Entertainment!!
Great tips for a natural following on twitter

SWEET Sites from this week

Awesome T-shirt design mockup templates!

SWEET jquery Graph Plugin

FANTASTIC FONTS for your designs!!

Sweet digital painting tutorials

Nerdy history of downloadable games, wow these pics bring back memories

Awesome screen cast tools!!

Excellent Designer and Developer Feeds!

sweet ways to make your jQuery experience even better

Awesome read if you need some .htaccess tips that rock

@cheth got a mention here, well deserved!

Excellent Creatives to follow on twitter!!

I WANT! Feel free to donate one of these to me

Kickass CSS Galleries to submit designs to!

Awesome Chat Room – conference web tool!

Love this video – hilarious

awesome read – what matters most?

Win this awesome time billing + invoicing App!!

Awesome home page designs! – inspiratoinal!

Excellent icons here

Great Search form CSS Styling Tips!

Good read on Ajax requests with Javascript – Part 2

Excellent roundup of IDE's for Windows Mac and Linux!

Leaked Apple home page for new iPhone!

LOL!!! What if google had to design their user interface for google? AWESOME!

Uh Oh, yousendit has competition

Great read for any designer!

Excellent Texture from Tuesday! Leaves!

SWEET jQuery Image Gallery/Slideshow Plugin and Tutorial Collection!

wow left AND right mouse buttons binded! jQuery Rocks!

AWESEOME PSD/HTML Templates!

Awesome Landscape Photography!
If you like this, You'll love These.