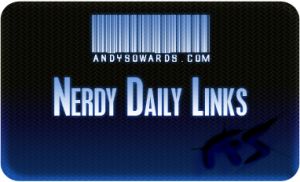 Happy Tuesday! Hope you are having a nerdy week so far! Todays Links contain some great info from yesterdays #WWDC and Some great Design Inspiration tutorials and resources, so check those out! Hope you enjoy todays post and pass it to a friend! Thanks everyone for all the love and support, I appreciate you all! Now Get your Daily Nerdy Web Development/Design Links!!
Web Development/Designer Resources, Inspirations and Entertainment!!
Huge logo design toolbox!

Amazing! Giving away 30 iPhones in 30 days!!!

Excellent Collection of Logo Designs w/ Gradient effects!!

Excellent read for securing your WordPress Installation

The Real $99 iPhone appears

Great intro to typography!!!

Great Custom Mac Desktop Screens!!!

Awesome Illustrations in the web design!

Excellent interview – stunning work!

Great Palm Pre Icon tutorial for Fireworks

Awesome Icon Sets!

Great Inspiration! – View of Designers windows

Fantastic Read – Popular design blogs share web stats

Hopefully twitter raises the tweet per hour limit!

Twitter Study – Prolifics rule

This is so true LOL

Great RoR tutorial – building a forum

Awesome Typography and grid focused websites!

Awesome portraits of Iconic people – inspirational

Interesting read – embedding video in email

Awesome Giveaway! Banner design app and WP Theme!

Great read for OOP Javascript

Palm Pre Failing already?

Great look at sharing blog posts on your WordPress blog without the use of plugins

Awesome Conference yesterday

Great way to mix and match your feeds

Yesterday was PHP's B-Day!

Great CSS Galleries!

Awesome 3D Social Icons

Great read from Brian Cray – Rethink Navigation

Awesome App development/review Site

Awesome tips from experience on Launching an eBook

Great PHP Frameworks and CMS

Awesome web form examples! Inspiration

Great twitter follower management tools!

awesome coverage from #WWDC
If you like this, You'll love These.