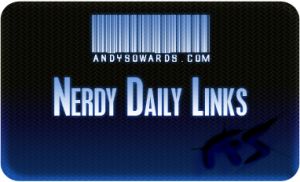 Week is flying by, its Thursday already! How is everyone doing? Today's links are full of Inspirations from all over the web as well as some great WordPress and jQuery tips and tricks! so check those out! Hope you enjoy todays post and pass it to a friend! Thanks everyone for all the love and support, I appreciate you all! Now Get your Daily Nerdy Web Development/Design Links!!
Web Development/Designer Resources, Inspirations and Entertainment!!
Awesome new wordpress site

Excellent read – Organize those design files!!

Awesome WordPress Dev and Design Cheat Sheets!

Awesome flash websites with 3D Illustrated Environments – Inspiration!

Great video explaining jQuery.live()

woot! im trendy

new fonts at the font shop!

Cool tutorial!! Building Web 2.0 Document Search Sites

Kickass single page sites

Excellent Tips for a Print ready CSS Stylesheet!

Excellent Video Game Web Site Designs!!

Awesome ways to share your fav Design Books!

Interesting Read – Syndicate content without Utilizing a news feed

Awesome 3D Illustrator Tutorials

AWESOME read – Tons of examples of Informative and usable footers in web design

Awesome Twitter peeps for Design

Awesome twitter apps you should have

LOL hilarious comic

Excellent read – jQuery Always the answer?

Beautiful WordPress Sites – Inspirational

Awesome web design rules that you can BREAK

Twitter inspires startups

Interesting tool supposed to slow the load of the page to simulate slower connections

Fantastic illustrations – Insane

Excellent video from an old school designer

Great Tutorials for designing decent web layouts

Awesome read – so true

Awesome FREE WordPress Themes!!

Interesting read for startups

Great read – twitter is rocking

Great for Mac Newbies!

Awesome Design Rules to live by!

Awesome Illustrations!

Awesome Web Designers to Follow on Twitter!

Interesting Video on WordPress and Multimedia

SO MANY SMALL ICONS!!!

Awesome People in the Web Biz

Sweet JS Powered Sites!

Quick and easy jQuery tip!

Awesome Giveaway! Hosting with WordPress web host!

Awesome Web Design Articles from June
If you like this, You'll love These.