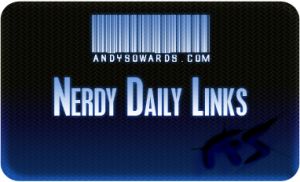 Its Thursday already?? My Father is improving everyday and it is such a blessing, Thank you everyone for your thoughts and prayers!! Todays post is full of awesome Inspirations and some sweet tutorials! There are a lot of Good CSS Links in here today as well, so Hope you enjoy today's post and pass it to a friend! Thanks everyone for all the love and support, I appreciate you all! Now Get your Daily Nerdy Web Development/Design Links!!
Web Development/Designer Resources, Inspirations and Entertainment!!
Awesome Web Layout Photoshop Tutorial

Freaking awesome Icon Design Tutorials!

This is an awesome technique that actually looks real on photos!

Awesome Drupal Showcase

Good CSS Resources

These are hilarious

Awesome sites for visual inspiration!

awesome coffee mugs!

Fantastic CSS Techniques!!

Awesome Web Apps that make life easier!

Fantastic WordPress Recipes!

Cool jquery tip for Latest Posts in WordPress

Very inspirational video – Jason Fried speaks at Big Omaha 2009

Interesting read in Typography and CSS

Great read and how to's for the 2009 trends

Great rules to follow!

Find people on twitter!

Awesome Designer Interview!

Interesting use of CSS

These tabs are pretty cool

This is pretty awesome – Tutorial

Great read/video on CodeIgniter and Ajax with jQuery

Stunning Fountains!! Amazing!

Fantastic read about Floats – CSS Tutorial

Awesome WordPress Themes for Lifestream blogs

Awesome resource for Form Validation

Great resource for better performance of AdSense

GREAT read for freelancers

Interesting bit of code for AS3 and OAuth

Great read for Google Chrome OS for Netbook info

DesignMoo is an up and coming Design Story site – grab a button

Awesome Career Blogs for Designers

Awesome WordPress Themes – Most Downloaded

Freaking awesome Design Portfolios

Bye bye CompuServe

Great read for Chrome OS Info

This is a great Facebook Connect Tutorial

This is a fantastic Image Creation tutorial

Awesome Web Experiences

Very inspirational collection of CityScape images

Awesome Tutorial for creating a broken Link from Zelda

Vintage stuff is awesome to look at

These are some pretty Crazy inspirations
If you like this, You'll love These.