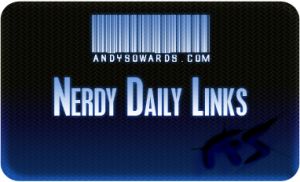 Hope you are enjoying the weekend! Here is a list of links to keep you busy through the rest of it! Hope you enjoy todays post and pass it to a friend! Thanks everyone for all the love and support, I appreciate you all! Now Get your Daily Nerdy Web Development/Design Links!!
Web Development/Designer Resources, Inspirations and Entertainment!!
Bahaha!!

wow. these are fantastic.

Great movie posters!

This is fantastic

My wife will not believe the lack of scripty font on these wedding invites!

Interesting grid layout

Great places to download NICE PSD's!

Another great read on starting freelancing – are you ready to freelance?

Great WP Hacks!

Fantastic CSS3 resource

Great debate

Awesome Giveaway on SixRevisions! Revamp your office!

This is fantastic.

This is fantastic, great read for everyone!!

Fantastic Logo Designs

Go ahead, hack twitter LOL

AWESOME Javascript Tools that improve workflow

Great things to look out for in 2.8 – WordPress

Another hilarious post – this one about people who game twitter for followers!

Fantastic collection of Inspirational designs made of Light and Space effects!!

Fantastic 404 Best practices

Excellent Single Page Sites – INSPIRATION

Fantastic Design Interviews that are essential to the creative community!

Fantastic Firefox Firebug Enhancer Plugins!!

Great places to submit your design article

FANTASTIC Minimalist sites!
If you like this, You'll love These.