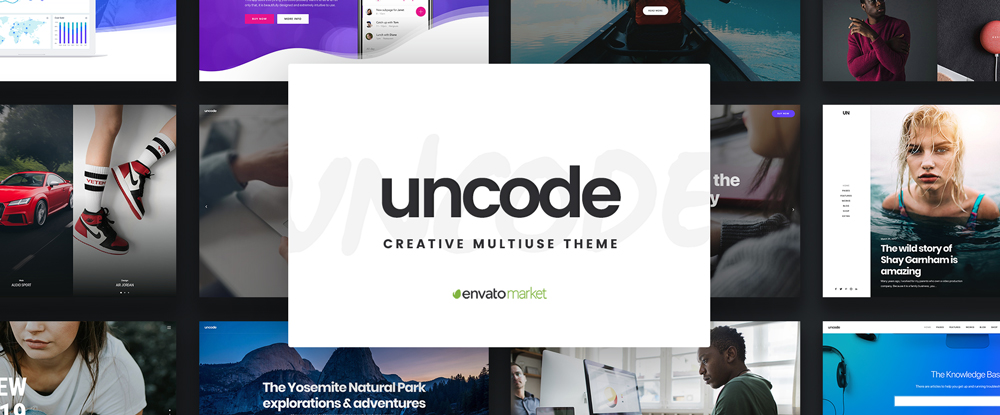 There may well be occasions when you might be better off using a specialty theme designed a for a specific purpose or business niche. In most instances however, you'd be just as well off using a multipurpose theme to help you do the work.
A multipurpose theme that is both flexible and highly customizable will almost always get the job done. Ease of use is important too.
Top-of-the-line multipurpose WordPress themes, like those described below, are generally a safe choice, and a good one. Several are oriented towards designing particular website types, but most can handle anything you want to throw at them.
That's the beauty of these top-tier multipurpose themes. They can do what you want them to do and do it well.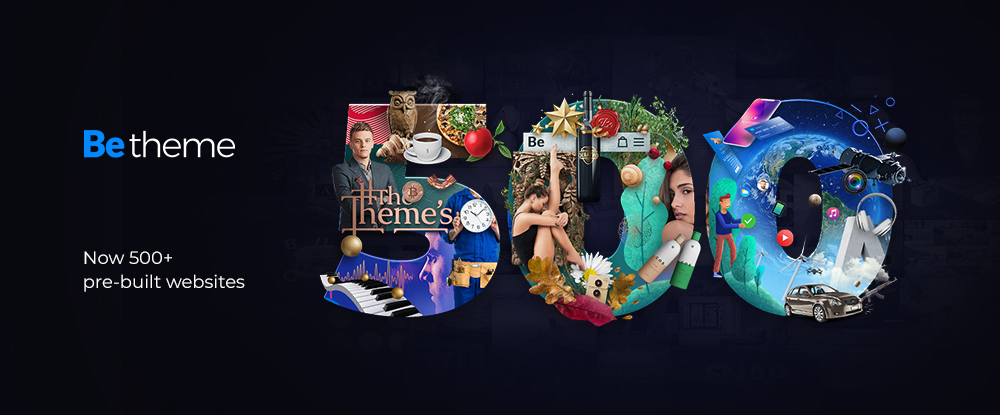 BeTheme isn't just a best-selling theme, it's one of the top 3 WordPress themes in the world. BeTheme is also the biggest WordPress theme of all in terms of features, and its users have discovered firsthand that bigger can indeed be better.
First, there's Be's awesome library of 500+ customizable pre-built websites.
They are attractive, professionally crafted, responsive, and can be imported with a single click
They cover more than 30 industry sectors, a host of small business niches, and all major website types
Be's One-page WordPress themes are easy to scroll and navigate and have been designed to hook viewers
UX is built into each and every pre-built website
Once you've settled on a pre-built website, or prefer to create your own layout, Be's other core features (40+) are ready to be put into play.
They include –
The Muffin Builder page builder/editor and Options Panel
Shortcode library, Shortcode Generator, and Layout Generator
A host of grid, portfolio layout, blog layout, and Header and Footer options
And much, much more
Click on the banner to learn more.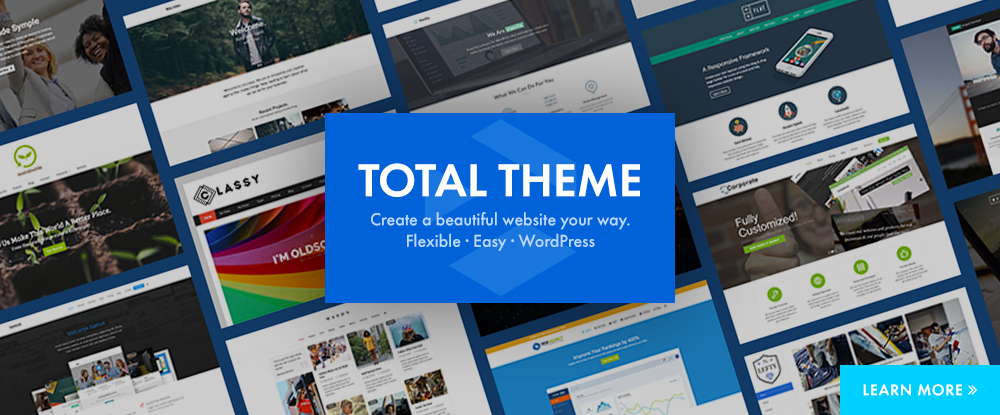 This flexible and highly customizable multipurpose theme is noted for its ease of use. First time users will feel comfortable working with Total, while more advanced users can put this theme through its paces to create virtually any type or style of website without encountering problems or constraints.
Total's primary features include –
Large diverse and wide-ranging selections of Builder Modules and Demos
500+ styling options provide flexibility and support ease in customizing
Total's building block approach that features a large selection of design blocks including blocks for key plugins
Drag and drop page building and frontend editing
Total has a 43,000-strong user base and is also developer friendly
If you're in the market for a multipurpose WordPress theme featuring multiple customizable layouts and customization and styling options, click on the banner to find out more.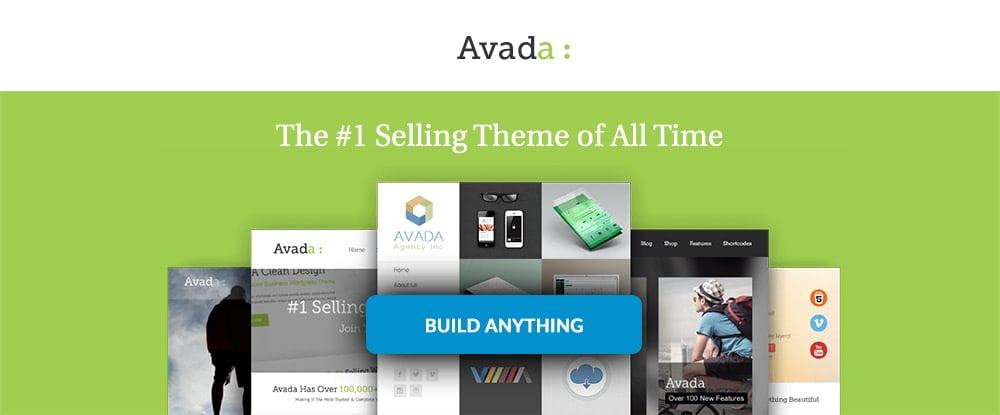 If the multipurpose themes you've been investigating are beginning to look alike, making it hard to know which one to pick, Avada has a very strong selling point. It's the number 1 selling theme of all time, which wouldn't be the case if it didn't have plenty to offer, like:
A robust framework of design elements, aids, and options
The Fusion Core, where you'll find the tools you need to get the job done
Theme Options that enable you to do away with coding
A page layout and options system that gives you complete control over your design
40+ importable and customizable demos to help you get your project off to a fast start
In addition, Adava is super-fast, fully responsive, and WooCommerce ready.
Click on the banner to learn more.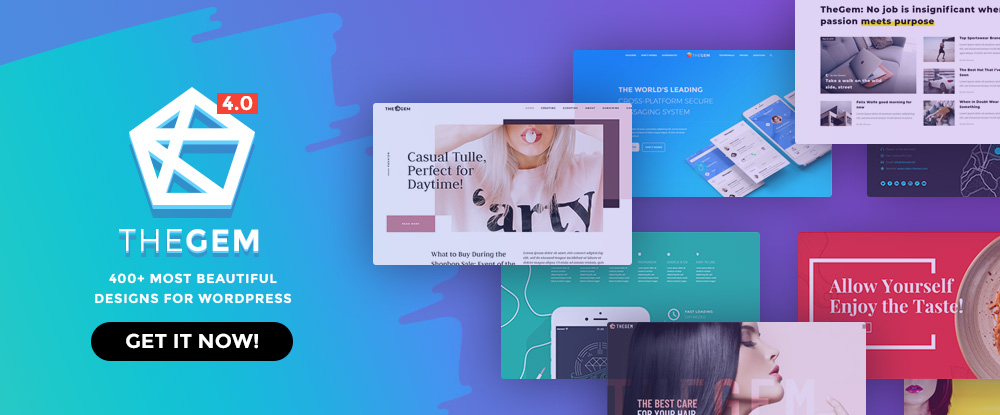 TheGem's claim to fame may be its reputation for offering web designers the ultimate toolbox to work with. The selection of 400+ pre-built websites has also drawn enthusiastic reviews, as have –
Rich collection of WooCommerce templates for any shops
Blocks: 300+ pre-made page sections to speed up workflow
Industry leading frontend page builder for easy editing & customizing
Excellent 5-star support
Click to find out what its 45,000 satisfied customers like about TheGem.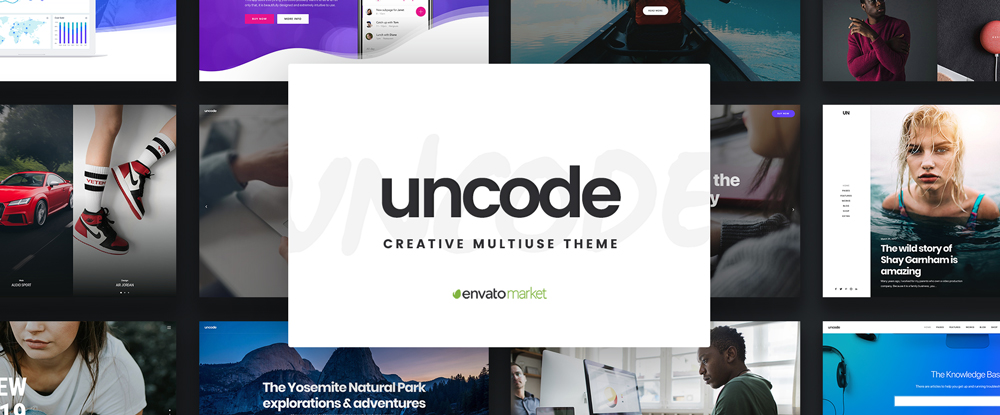 Uncode, one of Envato's top sellers, is a multiuse theme oriented toward building agency and business sites, sites for freelancers, bloggers, as well as one-page sites and landing page design.
Top features include –
70 pixel-perfect design concepts to help you get a project underway
400+ Wireframes templates you can customize, mix, and match
An Uncode user-built website showcase that demonstrates Uncode's possibilities – and yours
Click on the banner to visit the website.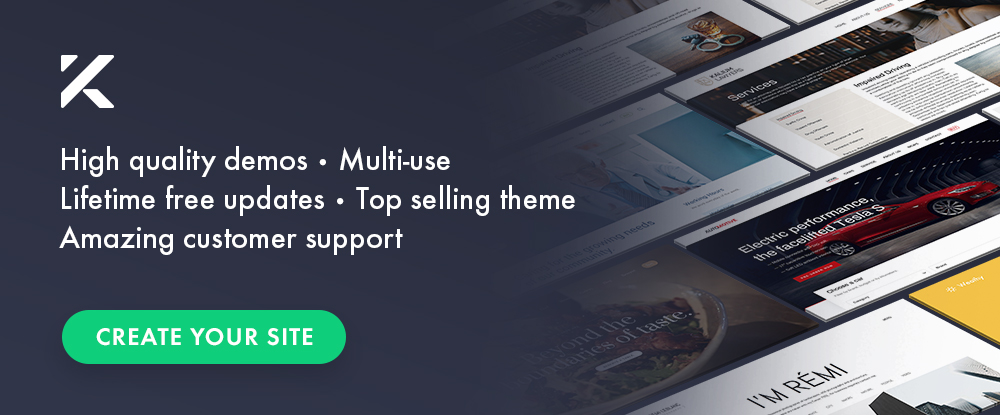 Kalium is a multipurpose theme whose strength lies in portfolio and blog website building along with eCommerce oriented websites.
Kalium is 100% responsive and extremely user friendly
WPBakery, WooCommerce, and Slider Revolution plugins are included, plus Kalium supports all the most widely used WordPress plugins
35,000 users can attest to Kalium's first-class customer support
Click on the banner to find out more.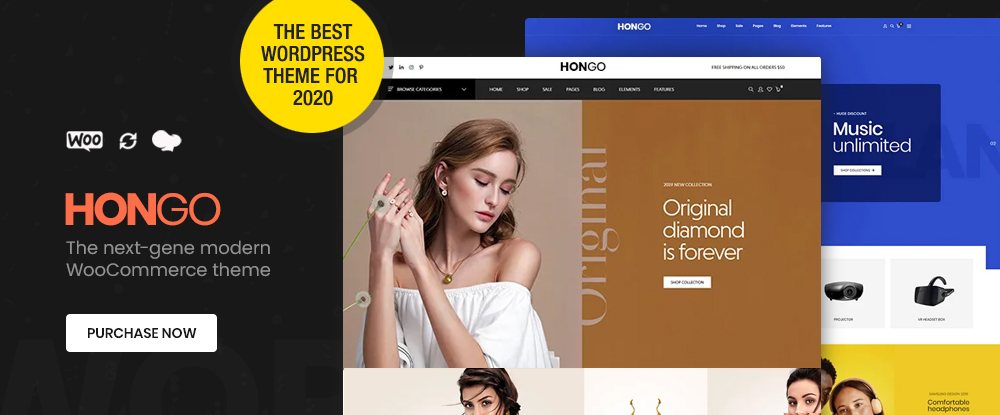 Look no further if creating a WooCommerce store is on your mind.   You're sure to be impressed by Hongo's selections of store layouts, page styles, and 1-click importable demos along with –
WooCommerce features like product search filtering, quick view, comparisons, wish lists and videos
Premium WPBakery and Revolution Slider plugins
11 impressive store demos, 8 product page styles, and 125+ creative content pages
Hongo is also a great choice for creating blogging websites.
Click to learn more.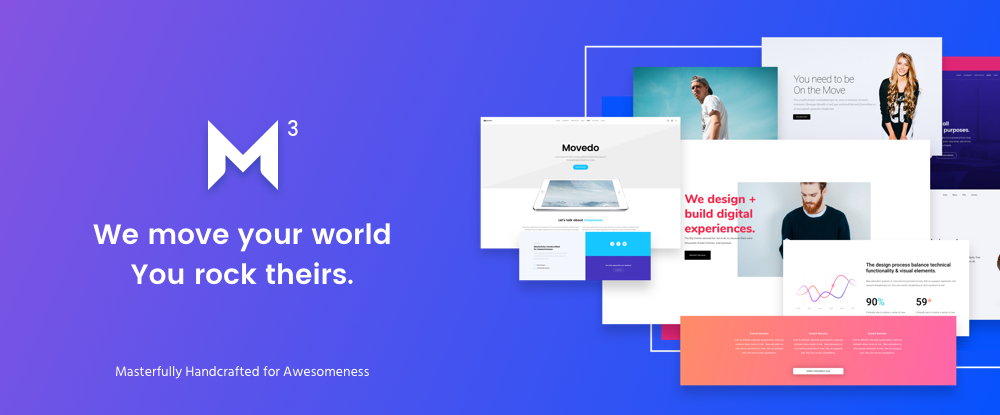 Movedo is modern, powerful, and easy to work with. Better yet, it's a fun multipurpose theme to use. Based on the theory that movement attracts viewer attention, Movedo offers the following special features you can use to make your websites rock:
Unique animations
Dynamic scrolling
Ultra-dynamic parallax effects
This is your chance to take visitors on a journey they'll tell others about.
Click to learn more.
***** 
Multipurpose themes are ideal for helping you build whatever types or styles of websites you have in mind.
Some multipurpose themes bring with them limitations or constrains that you would rather not have to deal with. That is why it's taking time to find one that will definitely deliver.
To help you out, we've compiled the above selection of top-tier multipurpose WordPress themes; themes that will never let you down.