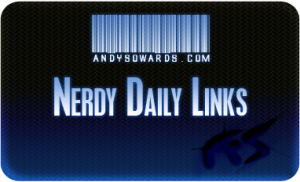 Happy Tuesday!! Nerdy Links are BACK! Sorry for the absence but I had the FLU last week, it was not fun! Todays links are HUGE. We have some great WordPress Themes, Plugins, Tutorials in the list, also a ton of great and inspirational Designer Interviews. Great list of Freebies as well! Hope you enjoy it and pass it to a friend! Thanks everyone for all the love and support, I appreciate you all! Now Get your Daily Nerdy Web Development/Design Links!!
Web Development/Designer Resources, Inspirations and Entertainment!!
Great tips for brand building with Web design

Great tutorials for building wp Plugins

Awesome WP Themes from April!

Nice plugins for WP to share your posts!

Awesome Video Game Web designs

Awesome black and white portraits!

interesting new way to test web sites – new tool from microsoft

Take a look at Digg's Diggs!

In Case you missed it, My Interview on Web Designer Magazine!

Interview with Calvin Lee – the original media ho!

Awesome Illustrations!!

Great ways to be persuasive!

Nice Twitter Tips!!

Very nice generators for Designers

Cool resources for Typography!

Great Colorful Artwork

More FREE FONTS!

Cool FREEBIES!

Awesome 3d colors!

Cool SEO stuff!

Win some books!

Awesome email verification tutorial

Spectacular collection of FREE FONTS!

TweetMEME FTW!

Sweet PS Smoke art!

Awesome tips for jQuery and RoR Integration

stunning, and creepy, sculptures made from typewriters!

Awesomely creative ads!! in crazy places!

More awesome twitter backgrounds!

Cool toggle comment box with jQuery and PHP Tutorial

cool tool for mocking up designs

interesting read on corporate advertising campaigns

Awesome jQuery and Ajax photo galleries

awesome typography resources!!

Tons of css resources

reddit up to something?

Keep your twitter followers!!

Stunning illustrations with watercolors!

SWEET iPhone apps for web designers

Awesome slideshow using jquery

Excellent graphic design blogs

cool PNG image optimization

silly spam.

make google find your keywords

Great read – new way to check productivity

Great illustrated Cartoon Tutorials!!

Some amazing twitter backgrounds

Great Disintegration effect for After Effects

Huge collection of O'Reilly titles on Ebook

AMAZING surreal effect tutorials

Excellent use of Gradient effects!

STUNNING night shots….amazing.

Awesome Lifelike Info Streams 🙂

Freaking CREATIVE USB drive designs!

More awesome sites built with jQuery!

Great ways to get motivated

Awesome grunge stripes!!

Great read for preparing for Printing basics

Excellent FREE wordpress Themes for 09

Freaking awesome billboard designs!!