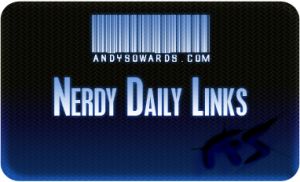 Its the weekend! Woohoo! No better way to spend it than with ANOTHER HUGENORMOUS Episode of Daily Nerdy Links, I swear, so much good content this week the Daily Links keep getting BIGGER!! Now Get your Daily Nerdy Web Development/Design Links!!
Web Development/Designer Resources, Inspirations and Entertainment!!
GREAT LIST of people to follow on twitter for design and development

Awesome iPhone apps for people like you and me!

Natural Talent or hard work? Hard work I say!

Awesome Twitter VIdeo share app for Mac OS X!

Optimize your JPEGS and Speed up your site!

Google Smartens up your iPhone!

Awesome Toilet Gadgets!

Good friend on twitter Paddy is featured! Well deserved!

Cool CSS Animations

Google Search window closing for Small Business?

Valentine Special Resources!!

Awesome Vector Patterns!

When you use Direct Messaging, BE CAREFUL

AWESOME Print Ads!

Good things to know about CSS

Great Read, Converting MySQL to XML!

Cool Javascript Chart Generators!

Great List of Social Entrepreneur Sites!

HIGH Quality Photoshop Tutorial Roundup! NICE!

If you don't know everything about twitter, you will after you read these

GREAT LIST! Gonna be installing these on my shiny new Macbook Pro

Add self signed certificate to firefox! Nice tutorial!

Great List of This Weeks Cool Sites!

Backup and Share iPhone Contacts for Free! Nice!

Great Read with tons of Resources for Entrepreneur-Writers!

Awesome LOGOS! Really great roundup

Fight Content Thieves with these great tips!

Awesome Google Maps Street Moments caught! Hilarious

Awesome customized product and label tutorial!

Dating used to be so simple LOL

Great tutorial on creating a custom WP Login Screen

Great read on integrating a Digital Agency into a traditional one!

Cool Nerdy Javascript Hash Table stuff 😉

Great tutorial on Pagination with PHP!

Client doesn't like your work? Ok, heres what you do.

TONS Of FREE and Awesome Textures!

Unique Ways to Recycle! Artsy!

Really Inspirational Typography Artworks!!

Good look at some sites with Full Width Headers with Fixed Width Content!

These are really quick and easy Popup modals that use jQuery! Saved my bacon the other day

Kewl jQuery Popup Bubble! Simple!

Quick and Easy jQuery Popup script

Heres what you Missed in the Tech World!

Congrats to Flickr for Reaching 100 Million Geotagged Photos!

Multiple Inboxes in Gmail? GUH!?
If you like this, You'll love These.