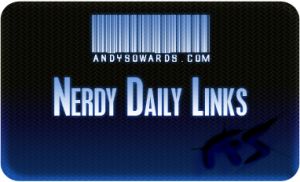 Its Wednesday AGAIN? Already? That was fast. Been a great week! I've been sharpening up my mac skills and hopefully going to crank out some great tutorials for everyone soon :). Now Get your Daily Nerdy Web Development/Design Links!!
Web Development/Designer Resources, Inspirations and Entertainment!!
Keep up with the trends with these awesome How To's!

Really Great code to drag everything into HTML Pages!!

No digital TV Transition till June?

Twitter growing fast!

AMAZING iPhone Concept. PLZ MAKE!

Freaking awesome SLEEK fonts! for clean web design!

Nice look at how to find quick jQUery help!

More goal achieving tips!

Want to be an art director?

WordPress love. mad props.

Free multi-color twitter badges!

Best Twitter Tools! Nice!

Quick and easy Breadcrumb tutorial using CSS!

Really Impressive single pager web sites!

Want your PC to be a DJ?

Oh god, is that when we all die? 🙂

Good tips for Interns. you need them!

11 steps toward more Usable Content

Amazing sites with stunning background usage!

Why exact match domain? Heres why.

great read about standards of the internet and the future!

VERY Useful Tutorial on using CSS Sprites!

Get in line to be a FOWA Groupie

Great Gradient and 3D Effect Logo Collection!

Inspirational Designer Interview!

You cannot do without these awesome Snippets!

Interesting read – Most Successful college dropouts! in HISTORY!

Great Web Agency Reel – Inspirational work

Comic book and iTunes nerds rejoice.

Wow, surgery, Live, on twitter.

Dont know how to use TweetDeck but hear everyone say its great? Heres a good how to!

Great tools for Project Management and Collaboration!

Gather the right following on twitter

Great read about online arguments

jQuery Slideshows Tutorial using Cycle Plugin!

Very Useful FF Plugins!!

New way to think about creative genius

AMAZING BUSINESS CARDS!

What? Global takeover next?

All about the HD Baby!

Great tutorials for Fireworks!

Cool technique for jQuery Expandable navigation using nested UL's

Awesome Open Source Type!!

Awesome and Stunning Astronomy Images!

First online vector editor! Sweet!

Amazing skateboard designs! Inspirational!

Great way to set goals!

Great Resource for CSS & HTML Monkeys that need good tools to use 😉

I think iPhone and iPod touch beat kindle, kindle is just a pdf reader!

Interesting Flash site that sings what you type. haha

Great Collection of Online Portfolios!!

Awesome Collection of Icons!

Great tool I use to get passwords out of Dreamweavers STE Files when I forget what the original was, it happens. 🙂

Awesome read, helps avoid these mistakes when you get a mac!

Great tips for people like me that are new to using mac full time 😉
If you like this, You'll love These.