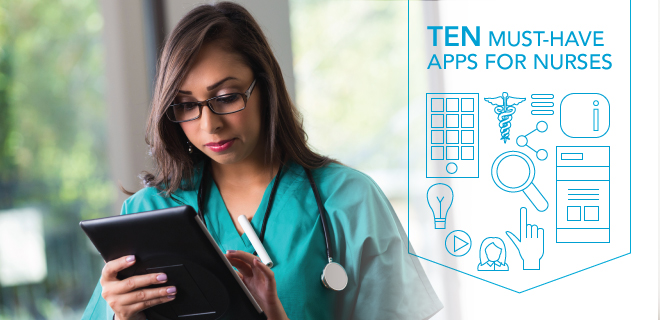 If you have a mobile device like an iPad or an iPhone, there are probably apps you have installed on your device that are taking up a lot of space. While a lot of apps that people download are a way for them to have fun while on the go, there is no doubt that Bradley University BSN to DNP online nurse graduates can also use their mobile devices to better serve their nursing careers.
When you have your scrubs on and you are ready to start your next shift, mobile apps can help you quickly receive the latest information about a new medication or information on new patient diagnoses. It is certainly easy to see why your mobile device can help make you a better nurse by being able to better treat patients and have an online access to the reference materials you may need during your shift.
The following list of mobile apps that DNP programs online graduates should install contain apps that are free and some that are not. However, considering the types of services they provide and how they can help you with daily tasks while you are at work, they should be considered well worth the cost.
The Davis NCLEX-RN (Mobile)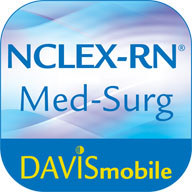 Davis Mobile: NCLEX-RN® Med-Surg
Generations of nurses before you had to physically carry or use this book whenever they wanted to study for their nursing exams outside of school. However, this mobile app gives you access to the entire Med-Surg study guide that will give you sample questions that you can answer while you are waiting in line, waiting for your next class to start, or simply watching television. This is truly a convenience and it allows you to study whenever you have a spare moment.
Instant ECG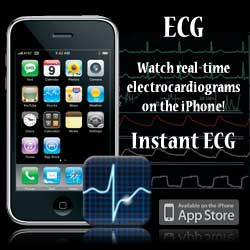 ECG Interpretation on the iPhone
This app is a must for telemetry nurses who need to frequently interpret rhythms. It can be challenging for even the most experienced nurse to remember all of them. This Electrocardiogram Interpretation Rhythms app can be easily accessed the next time you are stumped for an answer.
Drugs.com – Pill Identifier
So, what should you do when a patient drops one of their medications on the floor? Unfortunately, you may not know which medication it was. When you make a call to the pharmacist to get a replacement medication, what will you say? Never worry. The Pill Identifier app by Drugs.com will allow you to search for pills in its database by allowing you to search for pills based on their most common features so you will be able to reorder the correct one.
Sleep Sounds
Working a double shift and looking for a way to relax while you are on a break? This app is the answer for you. Take a moment to break away from the bustle on the floor by listening to some soothing sounds of a rainstorm, a purring cat, or the wind. This will help to calm you and soothe your mind.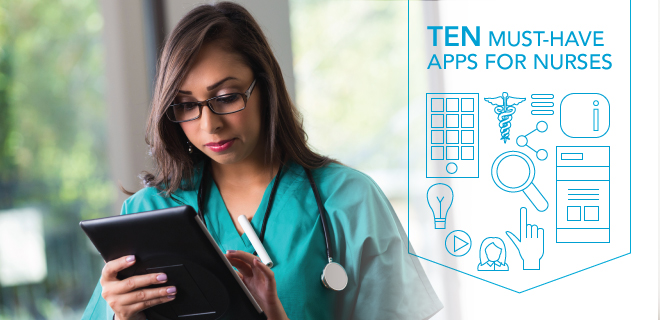 10 Must-Have Apps for Nurses [update]
Are there any apps from this list that you are considering installing on your mobile device? Which ones are you currently using to make you more efficient during your shifts?