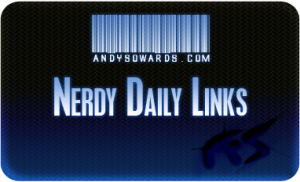 Happy Halloween and welcome to your Daily Nerdy Links post! I hope all you Subscribers are ready for today and are reading this at your computers all dressed in crazy gear with face paint on. This is the very first Halloween Edition of nerdy web techy web developer/designery Resources! So Enjoy! Or I will suck your blood!! 🙂
First, we start with, Halloween Stuff!
So your on Twitter right now and they have tons of cool halloween Icons floating around in the posts, you are like "How?" Well now my friend, You know how. thx to @mayhemstudios 😉

Happy Halloween! Trick or TWEET! Here are the rules.

Cool tutorial for those of you with Wacom Pads!

Nice halloween wallpaper!

So its time for another tutorial and on this tutorials you'll gonna learn how to design a Scary Zombie Movie Poster in Photoshop. This tutorial is more on beginner type.
HTML Newsletter on MAC Tips
Guidelines for HTML newsletter on MAC, Don't Steal, Learn. 🙂
Web Designer/Developer Resources
A list of some really cool Web Design/ROI/Usability and SEO Articles!

Looking for some nice Free Flash Photo Galleries? Check these out.

Tons of Cheat Sheets for Web Designers/Developers like us!

Good Tips on improving your career, and yourself, as a designer!

Web Designer Developer Preparation kit!

Get Organized You Freelancers!

Things Not To Do.
Illustrator Tutorials
Great Drawing techniques!

Really nice patterns tutorial in photoshop!

Simple answer to a Simple frustration in Illustrator.
Introduction fo E4X
ECMAscript for XML (more colloquially known as E4X) has had comparatively limited success of adoption in the face of the power of JSON, I suspect partially because of a general ambivalence that the JavaScript community has towards working with XML, but more so because there is comparatively little out there describing how best to take advantage of the features that E4X offers.
Freebies!
Really nice, And FREE, Grunge fonts! Great Collection!

Hi-Res Texture Pack! Freebies!

Really NICE illustrator brush set! Yum!

Really nice cards giveaway!
So many cool phones, so little time.
iPhone or Storm? Tough Decision indeed.
Twitter Stuff – Non Halloween 🙂
Some good people to follow on twitter 🙂

New to Twitter? There is apparently an instruction manual now. LOL

Twitter Tools, Everyone Loves these!

jQuery Plugin for Twitter!
Design/Usability
As if you needed to know why.
37 Signals Founder Interview
Founder of an Amazing company called 37 Signals, Must see.
Google News
Web Tools
List of Video Downloaders!
WordPress
WP NOW IN COLOR!

Some Cool Premium WordPress Themes!