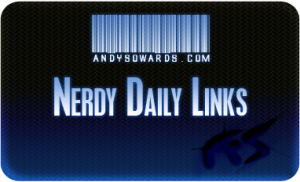 Rough and busy week for me! The Nerdy Web Development and Design Links are still coming daily though! So check them out and pass them on! Bless you all!
Laugh of the day
Web Developer/Designer Inspiration
Web Development/Design Nerdy Daily Links For 12/02/2008 – December is here! Getting the swing back at work? Christmas is Around the corner guys! Hope everyone has a great week! The Nerdy Links are back in full force! So check them out and pass them on! Bless you all!

Really Awesome Blue Logos!

Great roundup of the Best of the Web in November 2008 According to My Ink Blog!

Really Great Designer Interview!

Amazing Showcase of Typography! Inspirational!

Killer design examples!

OS Inspired WordPress Themes!
Business/Freelancing/Marketing
Interesting Read for designers!

Part 2 of the True Cost of Freelancing!

Do clients need to be educated?

Should Companies Hire 14 Year Olds? Some already do.

Will our kids Allowances be going through PayPal soon?

To use Adsense, or Not to use Adsense, That is the question.

Review of a MUST HAVE book for Freelancers!

Branding on a Small Budget, Good Insight!

Get paid, or pay for competitive ideas, and choose, or get chosen if you/they digg the idea! Simple and creative website idea
Web Developer/Designer Resources
Components of good web design!

Cheat Sheets for everything you need as a Web Developer!

Nice FREE Rich Text Editors!

Nice and Easy look at Spy Effect for Designers!

Get creative FAST!
Twitter Stuff
Make a Good Impression with your Custom Twitter Background!
WordPress Stuff
Awesomely Useful RSS-Tricks and hacks for WP!
Nerd Stuff
Best NES Quotes EVER! Brings back the memories.

Awesome Wii Mote hacks!
Blogging Tips
Get more exposure on your design blog with these tips!
Freebies/Contests
Get the recognition you deserve! Submit by Dec 7th!

Really Slick FREE Vector Icons!

Win $500 K-Mart Gift Card!

Prepare yourselves for Gifts this season from HongKiat! Go read the rules now!