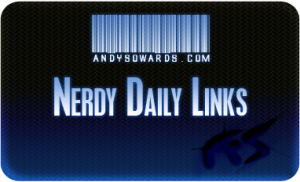 The end of the week! How is everyone?? We made it! Todays WDNDL's has some great Photoshop Inspiration and Tutorials! Enjoy and pass the links along to a friend! Thanks everyone for all the love and support, I appreciate you all! Now Get your Daily Nerdy Web Development/Design Links!!
Web Development/Designer Resources, Inspirations and Entertainment!!
GREAT clients have these characteristics.

Create a Sexy iPhone in Photoshop!

THAT is freaking awesome. Create a gameboy PS Tutorial

Some AWESOME web design blogs!

Cool service that lets you browse the web with FB and Twitter Friends

Get better SEO with RSS

Some of the best looking Drupal Websites

Awesome Logo Redesigns – And some that aren't

Good read – ways to define JS Class

Good time saving tips in CSS coding

Cool jQuery show password function

Cheaper entry iPhone plan?

Great resources for young entrepreneurs

Twitter search is going to be a real boy?

Great Places for PS Brushes

Good list of Design Decisions that could annoy your visitors

Awesome Read – Successful Design Disciplines

Good look at liquid expandable sections with rounded corners – CSS!

Awesome jQuery pageSlide tutorial

Wow, now thats some typography!

Awesome FREE Font! Handlebar!

Get the perfect twitter background with these resources

Good read about Logos and Companies

Awesome FF Backup Extention – Backup all your FF data

Some cool free twitter backgrounds!

Advanced Twitter RT Tracking

awesome read if you are thinking of starting a company

Some of the newest wordpress theme releases

Cool look at different alphabets from different artists

Sweet Plugins for Safari!

Cool jQuery mp3 Player Plugin!

Cool tutorial for using Logic Pro's Transformer Object – Audio

Some STUNNING print ads

Awesome look at using WordPress on Client Sites!

Love Castles! Inspirational

Great read – learn a ton about text widgets in wordpress

Awesome screencast on form styling and function

Awesome post – 14 great designers sharing advice on project scheduling

Awesome logo design tutorials

Cool Guerrilla marketing stunts

Don't do this when using Social Media for your business

Good read for small businesses – website do it yourself!

Excellent list of Mac Apps for Designers

Great read on Forms and CSS

Tiny mouse!

Great read about the Delicious API – Didn't know they had one.