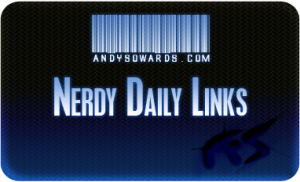 TGIF!! Sweet! Todays Links contain some Awesome Free Font Collections and Some great Freelancer resources and what not, so check those out! Hope you enjoy todays post and pass it to a friend! Thanks everyone for all the love and support, I appreciate you all! Now Get your Daily Nerdy Web Development/Design Links!!
Web Development/Designer Resources, Inspirations and Entertainment!!
Wooo! 2.8 is out! WordPress 2.8

Freaking awesome Linux, Mac and Windows Wallpapers!

awesome sites for free fonts!

This is awesome, and way inspirational. watch it!!!

definitely need to apply to some of these 🙂

What a cool font! and FREE!

interesting jquery plugin

Sweet read – Becoming popular blogging – secrets

Beware of IT Snoopers?

Great read for freelancers

This is just crazy – inspirational

Awesome post – Freelancing memories from Twitter

Excellent Read – Great tips for estimating time for your design projects

Awesome read – best part of being a graphic designer

Awesome Transformers Illustrations

Sweet regex filter for jQuery

Awesome PS Tutorials on Web Layout Design

Awesome Bokeh Photography, wallpapers and tutorals!

Sweet pop up enhancement list

hooray for vanity urls!

Awesome Skyline Photographs!

SWEET ideas

Wow. this is awesome. Web Development Timeline

Firefox update available!