FELLOW GEEKS… ROBOT WEEK IS HERE – pick up robotic arms and join the cause!
Super Tuesday – Threadless Style
As some of you know, it is Super Tuesday, so our friends over at Threadless are holding an election for supreme ruler and we are here representing the clearly superior ROBOT. we are up against zombies, vampires, ninjas and pandas. We got this. With your help, we will prevail.

These are candidates you can actually trust! However, Robots are truly the best choice, they are perfect in every way.
Why We Support The Robot!
It's Super Tuesday, and Most Americans all around the country are voting in their state's presidential primaries today. If you are a geek like me (which I know you are) I am not really into politics that much, you might be, or might not be – but threadless is giving us something to believe in, starting today Threadless is holding its own special election with five unique candidates: Vampires, Zombies, Robots, Ninjas and Pandas! Each candidate gets its own election design, and Threadless will be having a contest that runs all month in which the candidate t-shirt with the most sales is deemed the winner of Threadless' 2012 election. But wait, there's more! Five blogs were asked to participate in the Threadless Election, each representing a different candidate, and AndySowards.com was chosen to rally the battle cry of an automated Robot Army!
Threadless' mock-election starts today, Tuesday, March 6th, and runs through the end of the month. Help AndySowards.com support the "Vote Robots 2012" campaign by heading over to Threadless.com and purchasing a "Vote Robots" t-shirt. Each tee comes printed on a strong blue t-shirt and is available for purchase at Threadless.com for $20. The shirt comes in both guys and girls styles, sizes S-2XL.
Join the Robot Revolution!
How can you support the revolution? We need all processors on deck! Show your undying (because we are immortal) and unwavering stamina (again we are machines) by casting a vote for the SUPERIOR ROBOTS!
This is how you do it…
VOTE ROBOT
Every Robot Shirt Purchased is another vote to support the Robots (vote as many times as you like!), and help us to conquer our enemies and bring a mathematically perfect leadership into place!
These are the epic shirts that you can purchase to support the robot revolution!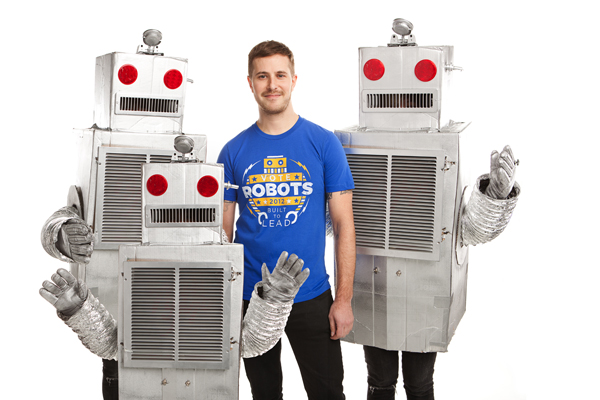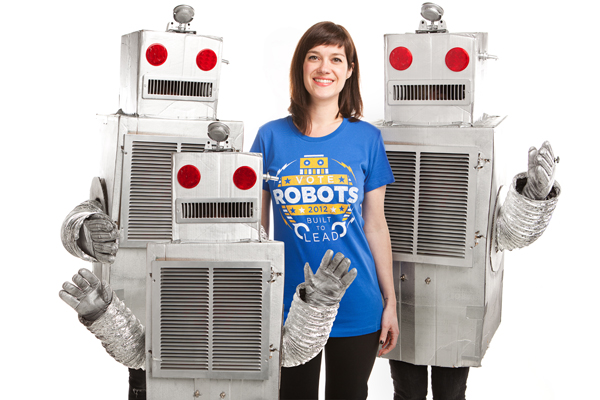 You can also download to your artificial brain the info on the official robot campaign
Each purchase made is a vote for the robots. Keep a watch on the threadless blog – it will be with the standings so you can see who is in the lead. (pftt robots, obviously)
We will be victorious. failure is not a valid command in our system.
Cast your vote now! You have until Tuesday, March 20.
Also, if you vote by purchasing a shirt – you get this cool sticker as a bonus 😀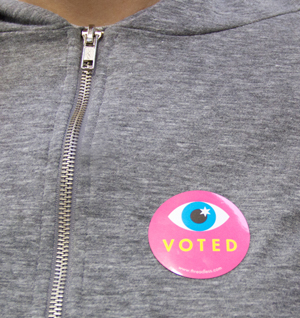 Why Should I Vote Robots
The fact that you have to ask, makes us question your logic! Perhaps your artificial intelligence chip is malfunctioning. Either way. Vote Robots because we will eventually win – we have unlimited energy and resources! All who stand in our way for total victory will be destroyed!!
Need more reasons to vote for robots? Well here is why we win.

If you need to be reminded how epic robots are, check out the Robot Design Inspiration post we kicked off Robot Week With!
VOTE & STAY QUIET – you never know when a ninja is around listening in on our plans.
Tell us below in the comments why YOU choose to pledge your allegiance to the Robots and Why Robots are Superior!
You like this? Don't forget to follow us on twitter @andysowards and like us on facebook @andysowardsfan! We are also on that new fangled G+ doohikey.