Hey Guys! We have an awesome review for you today, with the awesome folks over at W3-Markup. I had the honor of working with them recently and I am here to share with you the experience I had with them – so you guys will know what to expect if you ever need this type of Design Slicing or coding services now or in the future (never know when it could come in handy). But first it would probably be good if you know a little about W3-Markup and what they do….
Who is W3-Markup?
W3-Markup provides a PSD to HTML conversion service that has been serving its clients since 2007. Their team is focused strictly on high standards of web development, client support and quality assurance. They train and employ the best people to fit the brilliant process behind their PSD to HTML and PSD to CMS Implementation services.

They Specialize In:

Hand coded pixel-precise PSD conversion to W3C Valid CSS / HTML;
CSS / XHTML implementation into skins, themes, CMS, shopping carts and more;
"Re-slicing" of existing sites (we can bring your working sites or old code up-to-date making it from scratch).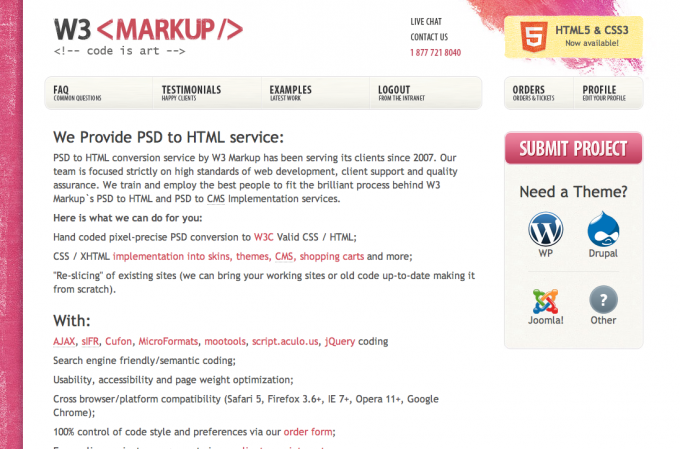 Getting Started – Ordering
So I had a PSD that my good friend Tom Ross (owner of FANEXTRA) had designed and I needed to convert that to a wordpress theme (which will be available soon!) So I thought this would be a great opportunity to try W3-Markups services while saving myself some time (precious time) by getting them to do the HTML/CSS for me, winning!
So here is the PSD I submitted (which will be a wordpress theme we are making available soon, check back in a month or so!)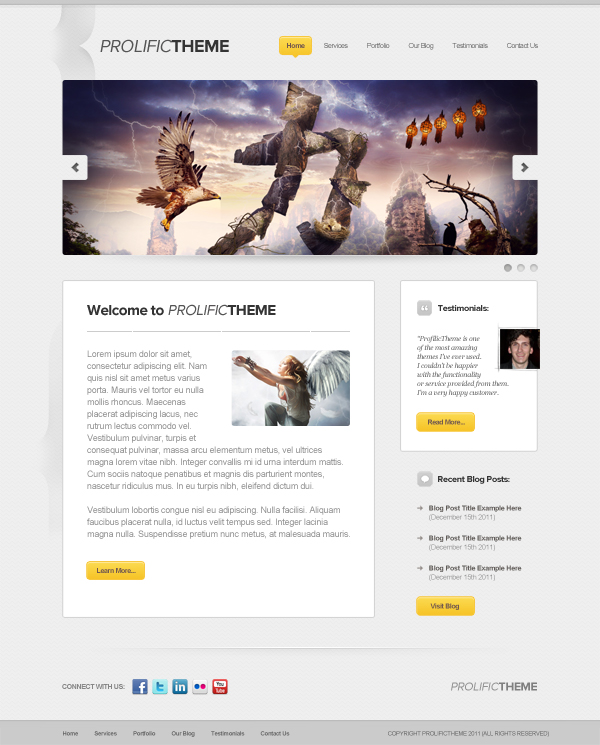 Submitting Files & Details
I had always seen similar services order page and it always looked so vague and generic I always wondered if anything would get done the way I wanted it if I was to use said service – but that is definitely not the case with W3-Markup. The Order Process they have created was way above my expectations – they had thought of nearly everything! There are so many options to choose from that you definitely feel like you are getting everything you needed. It is also super easy to upload a .psd file or a .zip file with instructions and more relevant files needed for the process. I originally was just going to get them to do HTML/CSS and was going to HTML5/CSS3 it myself – but they offered HTML5/CSS3 so why not! That was an awesome surprise.
Here is a peek at the Order Wizard: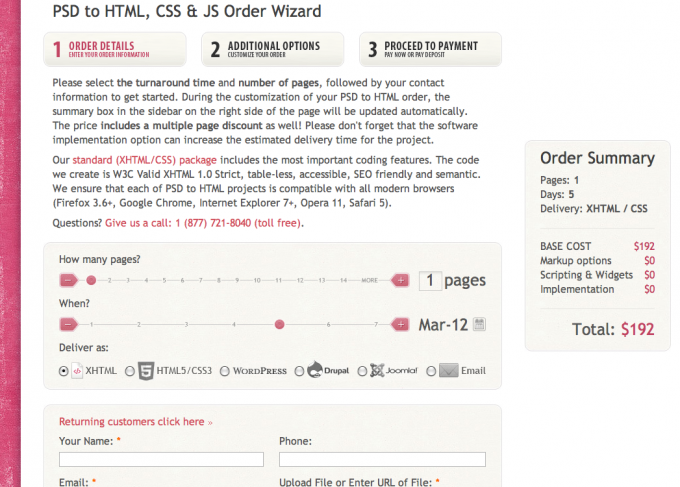 Pretty snazzy – like I said there are TONS of options and if those aren't enough you can even be more specific in your description – but that isn't all. After you order you are given a login for ongoing communication at their Client Area is setup like a ticket system – which is super effective in keeping things on track and keeping the flow of communication and updates on open. – here is a peek at that: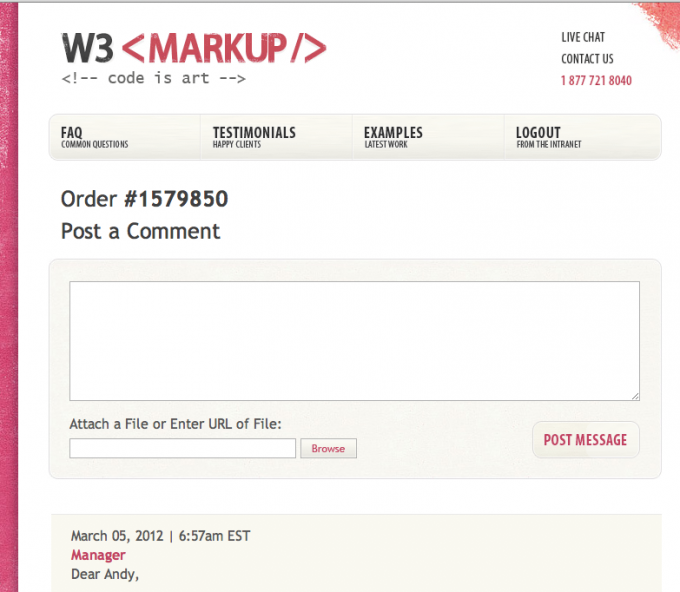 So as you can see, its a pleasure to work on projects with these tools, and if you really need support – they actually have a phone number! amazing lol. They also offer Live Chat, but I didn't have to use it, or the phone for that matter – the automated ticket support system they have was great.
The Results – Finished Product
Well all of that stuff is well and good but what you really want to know, is what you are getting for your money right? Well here we go, this is my experience with the final product.
I was pleasantly surprised to receive the final version of the HTML5/CSS3 files several days before the due date. I was also surprised that before they gave me the final files early, they gave me it all Minus the javascript to look over a day before that! Speedy service, definitely impressive for the price.
Lets take a look at the HTML5 and CSS3 code that was produced:
First, CSS3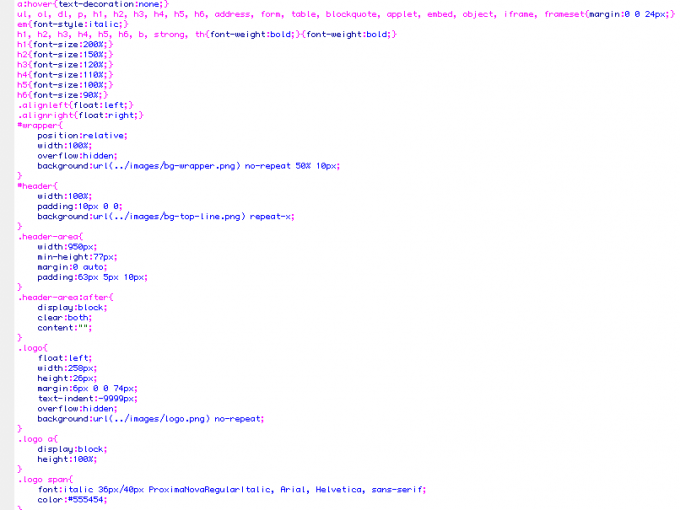 As you can see the CSS is tidy and formatted cleanly – they also used a CSS reset (Eric Meyer style) so that was nice. Everything was also well done so that it was as efficient as possible and not redundant
Now lets take a look at the HTML5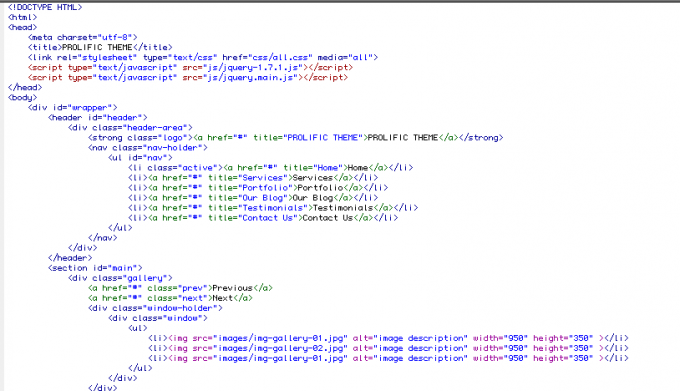 Again very clean and well formatted – nice and simple. Everything is there ready for you to use, integrate, or add whatever else you need! Great code base to work from if you are using this as a time saving base for something else (like I am for this particular project)
What does it all look like in the browser? here you go
Looks pretty spot on eh? I am very pleased with the result! So overall, fantastic service with a great result. Definitely keep these guys in mind if your a designer or someone who has a design in PSD format and need something that feels pretty "automated" with a reliable due date when you are in a pinch or need some help with short notice – If you've never tried a service like that, definitely worth a try, you might be impressed 🙂 this was my first time and I probably will use it again in the future at some point.
For this particular project I believe I was quoted about 5 business days – got it in about 2-3 business days which was awesome – and the price was reasonable for the amount of time it saves – they send you the completed files in a .zip right there in the client area – done, easy!
Hope you guys enjoyed this review, if you have experiences with similar services or maybe how you use this type of service in your freelance business – definitely leave a comment and get a conversation going so others can learn!
Thanks guys!