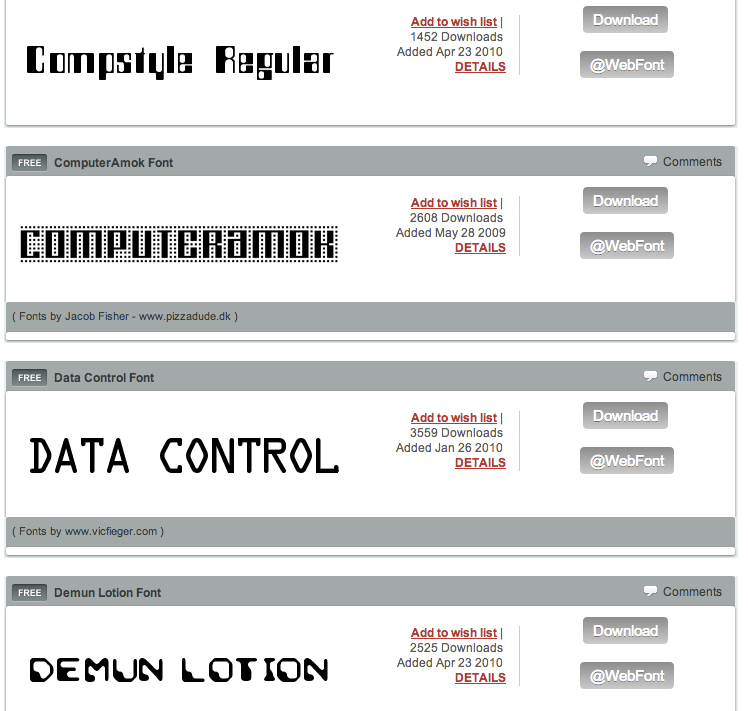 Fonts. Designers can't get enough of them! Whether you are a huge type geek who enjoys the finer points of typography, or just a budding graphics designer working on their first project, the common need is fonts! We often take these things for granted since the beginning of the age of computing it seems like we have always had our fonts handed to us! Even today our computers (whether you use a mac or pc) come standard with the commonplace fonts we have grown to love (and overuse) such as Arial, Georgia, Verdana, Times, etc. We see it on the web as well (or at least we did, until things like @font-face, typekit, Google Font API, etc. came and saved us – now it isn't so bad lol) where bland fonts dominate most sites.
Like most things though, there will always be new fonts, and you will always need to update and expand your collection if you want to create truly versatile designs that don't have an ugly "out of place" feeling when you look at the font used. The problem however is that some people (ok a lot of people) don't know where to go to find good free fonts to download – that is where FFONTS comes into play!
Who is FFONTS?

On this huge font download directory website you will find free fonts for windows, free fonts for mac, truetype fonts free download, free truetype fonts, pretty much most any font you would ever need for any design project! They have been on the web for a while now and are constantly updating their site with new and cool fonts for you to download for free!
Show Me The Fonts!
FFONTS has a great selection of categories full of fonts (nearly 50,000+ fonts!) that can be helpful to you on your projects. You can browse through to discover fonts you might like and you can also use the search feature to find something specific. You can search for anything you might need – maybe you need a "grunge" font, a "fancy scripty font", or even a scary or halloween font for the holidays, whatever you need they probably have something that would be perfect. Once you have found a font that piques your interest, you can check out what all of the characters look like, customize a preview, rate it, comment on it, and even (dare I say it) download it. Font designers can also upload their own fonts for the public to use and review.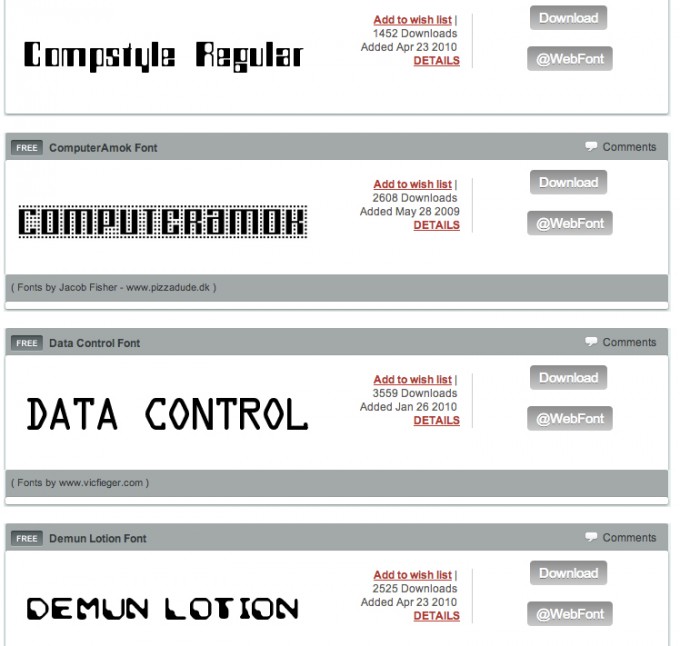 There is no registration required to download any of the fonts you find there of course, all you have to do is browse their font collection click the download button next to the ones you like (or of course you can preview it, like we did below).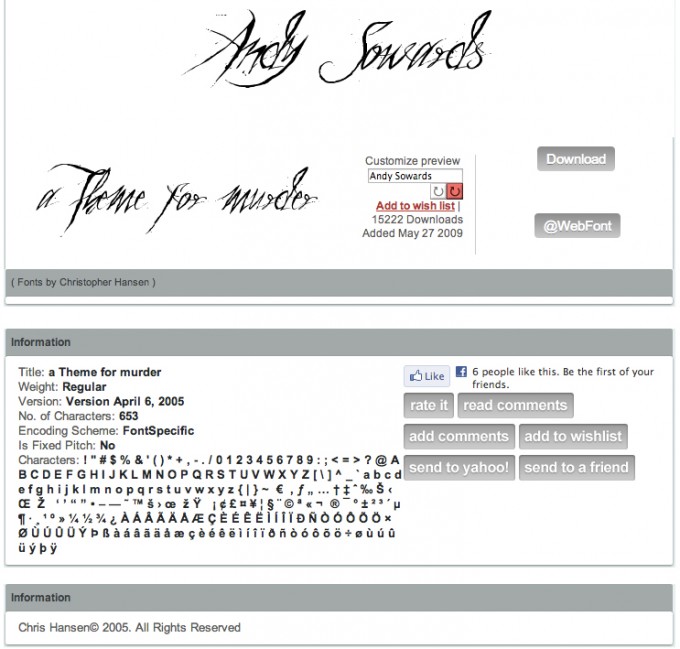 When you select a font you like, you see a list of information about the font. This includes font weight, the fonts name, the number of characters in the font and a preview of the font to make sure this is the font style you like (you can preview the font with your own words).
The Verdict
You can never have too many resources as a designer, and a place that has a ton of awesome fonts you can download for free definitely needs to be in your arsenal – and ffonts definitely delivers. Ffonts is a fantastic directory of free amazing fonts that is not only easy to use but it is also FUN to use as you can browse through and find fonts you never would have thought to search for otherwise – so I would recommend you take a look at their site if you are in need of some new fonts or just some inspiration!
Hope this review was useful to you guys, if you have used Ffonts before, or know of another awesome site to get free fonts then definitely let us know in the comments below! Thanks for reading!
You like this? Don't forget to follow us on twitter @andysowards and like us on facebook @andysowardsfan! We are also on that Google Plus & Pinterest thing.