Your RV has given you the freedom to explore your country with ease and at your convenience. You no longer have to stop at Costco gas stations to use their restrooms or make hotel reservations.
Yet, you might also have a lot of items you'd like to haul along. If you want to make your RV feel even more spacious, continue reading to learn about these handy gadgets.
Choose the Right Gadgets and Apps for Your Kitchen
According to Outdoorsy, there are several perfect gadgets that make the most of your RV kitchen. Certainly, you would like to cook delicious meals while on the road.
And, rummaging through packed drawers is no fun. A few practical ideas include magnetic knife bars and a wall-mounted spice rack.
These types of contemporary gadgets help to free up your cabinets and drawers for other items. If you need some meal ideas, all you have to do is open your favorite recipe app.
Other space-saving options include hanging fruit and vegetable baskets and coffee mug racks. Soon, you'll have almost everything you need within your line of sight.
Plus, you'll feel so much more comfortable in your kitchen.
USB Bed Lifts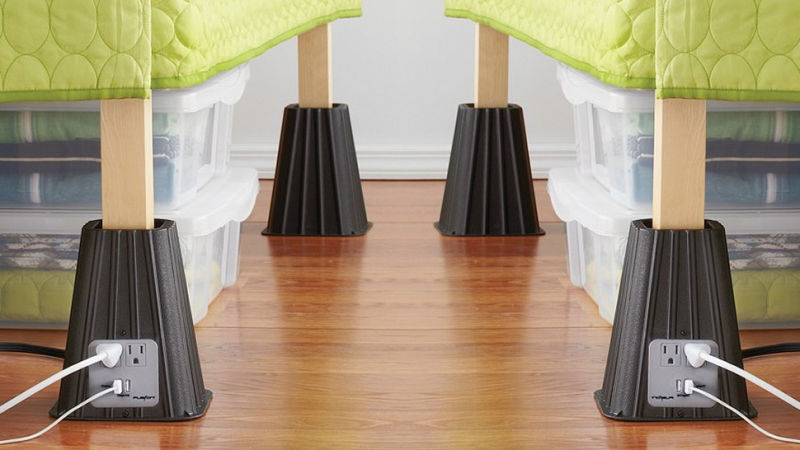 USB Bed Risers Are Far More Useful Than Stolen Milk Crates
If there's one thing that's true about living with devices is the fact that there never seem to be enough outlets. Well, in a smaller space, you can only plug so many items in at one time.
Well, never fear. You can now utilize every square inch with USB bed lifts.
The Studio 3B Four-Piece USB Bed Lift Set comes with two outlets and two USB ports per riser. As a result, you can get rid of clunky power strips.
Moreover, they lift your bed to allow for more storage space underneath. This is all about using gadgets to creatively improve how your space works for you.
In addition to the USB bed risers, your dining table can be used for eating and as a laptop table. See our other posts for more clever USB powered ideas!
Mini Laundry Machine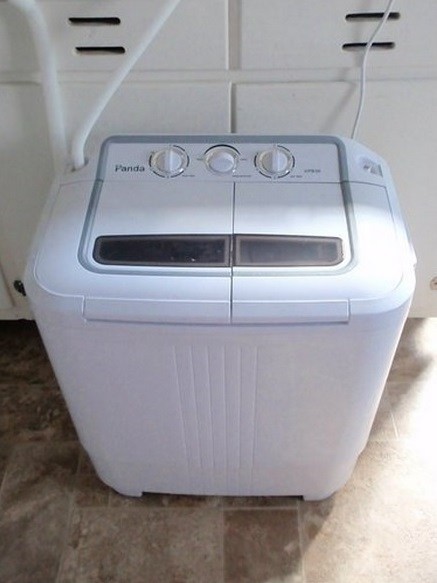 8 gadgets to make you feel right at home in your RV
There isn't any question that you will have to do laundry over the course of a long trip. Nothing will make you feel groggier than wearing old and dingy clothing.
Plus, you just won't feel like going out and bonding with nature when your scent is off-putting. The good news is you don't have to cram a washer and dryer in your RV.
Instead, you might consider using the Laundry Pod. This is a portable laundry machine that lets you wash up to 10 pieces of clothing all at one time.
Not to mention, it barely uses any water nor does it require electricity. Sounds like a win-win, doesn't it? So, while you're out being one with nature, you'll feel good using an eco-friendly laundry machine.
This is the right type of technology.
3-in1 Breakfast Station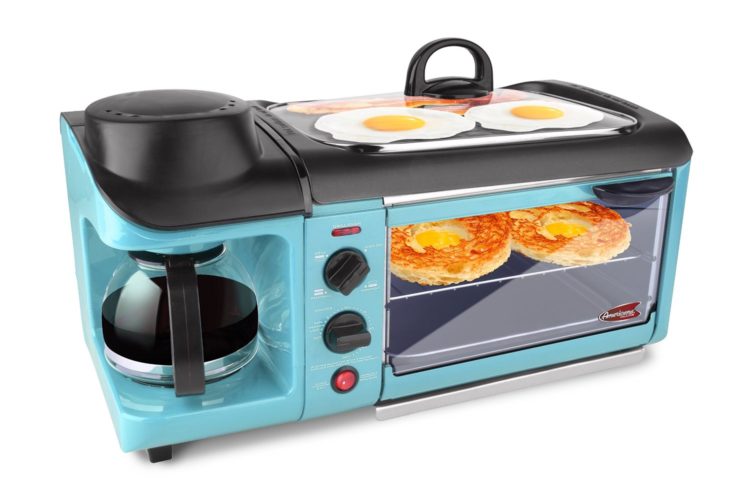 This 3-In-1 Breakfast Station Is A Toaster, Griddle And Coffee Maker In One Nifty Appliance
Have you ever watched the 80s classic, PeeWee's Big Adventure? There is a scene where PeeWee has robots make his breakfast.
All he had to do is rise and shine. Here we are, 30 years later, and we have the forward-thinking 3-in-one breakfast machine. Talk about having your cake and eating it too.
With this system, you can make eggs, sausage, bacon, toast and coffee all at once. This means you don't need an additional toaster oven, coffee machine or frying pan.
Hungry yet?
Create Your RV Mobile Theatre: Use A Wireless Pocket Projector
It was in 1933 when the American drive-in movie era began with the first theater in Camden, N.J. Popular for families and date nights, there is something very special about watching a movie outdoors.
With your Philips Wireless Pocket Projector PPX4350, you can set up a theater from any location. In fact, this projector is so powerful it can project a 50-inch HD image on a flat wall or screen.
Furthermore, you don't have to worry about connecting it to one of your USB bed risers since it works off your phone's battery. As a result, you can say "yes" to movies under the stars.
In Conclusion

The 35+ Best RV Must Haves As Told By Seasoned RV Owners
Experiencing the RV lifestyle is immensely freeing and fun. Now, you can live even larger with these space-saving gadgets.