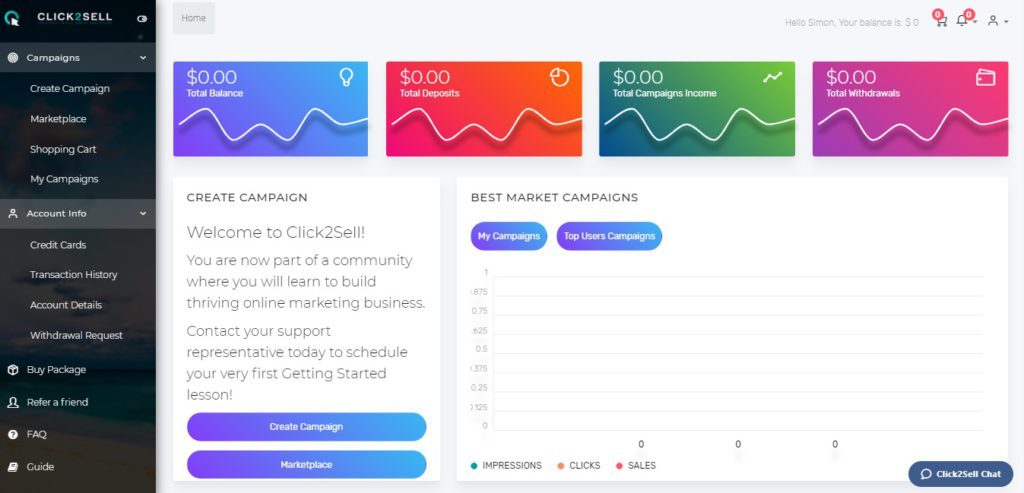 I ran into Click2Sell by accident as I was scrolling through the internet looking for freelance assignments in content marketing. At first, I thought it was just another common advertising platform or marketplace. But curiosity got the better of me, so I decided to check it out. Let me tell you; I'm glad I did.
What is Click2Sell?  

Click2Sell.co is an ad campaign management platform that allows users to design and create banner ad campaigns online. The platform is suitable also for newbies with little to no previous marketing experience, and it's powered by a complete suite of campaign management tools and analytics features. Here, famous brands and companies can use the platform and marketplace to advertise their products using banner ad campaigns done by online marketers worldwide. Marketers who launch the campaign on behalf of the company can get up to 85% of the revenues/commissions generated by the banner ad (or multiple ads).  
First impressions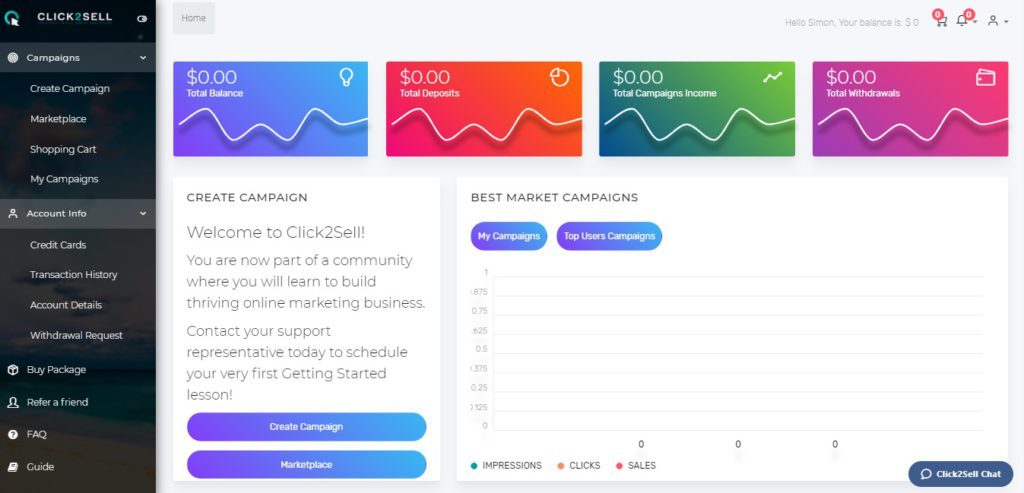 Once you sign-up (free, but you need to make an initial deposit to start creating campaigns, we'll get to that in a moment) you're taken to the dashboard, which is a full-fledged analytics page. On the left-hand side of the page, there are options to manage your ad campaign and your Cick2Sell account. There's also a Refer a Friend option, which can get you $100 for each successful referral.
The central part of the dashboard contains information about your account's total balance, deposits, and withdrawals. You also have a section where you can compare your performance with your competitors (i.e., other marketers). Overall, the dashboard looks pretty professional, although a bit cramped.
The platform offers five distinct campaign packages – Starter, Silver, Gold, Platinum, and Diamond; all provide a variety of different features and benefits. Just choose the package you want and get started (you don't have to invest a lot, the minimum deposit amount is only $250).  
Creating my ad campaign
Once you click the Create Campaign button on the dashboard, you'll be taken to the first page- Basic Info. Here you fill in your campaign name and select the campaign period, anywhere between two weeks and five months.
Next, you'll be taken to the Content page, where you can design your ad campaign and the banner ad. The platform offers eight different categories (Art, Business, Sports, Games, and others) for you to select from, and each one has its own unique set of banner ad templates. On this page, you can select the banner template you want, and enter the amount you wish to spend on the ad campaign. The platform will then auto-populate the number of web-impressions this amount will buy you.
You'll then be directed to the Placement page, where you're given several options to determine the size and placement of the banner ad on the publisher's website (in other words, where the ad will be displayed, also applicable to mobile devices). There is a demo picture available below each option, allowing you to see how your banner ad will look like when live.  
Next, you'll be taken to the Targeting page. The platform provides a list of headlines for your campaign to choose from. Once you select the headline that appeals the most to you, you can save and preview your newly created campaign. If you're not happy with it, you can go back to the previous pages and make the necessary changes. Then you can save and launch your campaign.  
There are two main ways to make money using the platform –  PPC & PPA:
– PPC (pay-per-click) – the advertiser (i.e., active member) receives 85% of the revenue generated by each click resulting from his/her banner ad campaign.
– PPA (pay-per-acquisition) –  the advertiser receives 85% of the commission paid for the acquisition (or sale) generated by the advertiser's banner ad campaign.    
Campaign analytics
Once your campaign is launched and activated, you'll then be redirected to the analytics page. This page contains information about all the campaigns you've previously created, with the number of impressions each campaign has received, the number of clicks, start and end date, and its status (active or expired). Clicking on the campaign takes you to the campaign dashboard, where you can view its performance and see how much profit your banner ad has made. You can also buy additional web-impressions during any point of your campaign.
Verdict
Overall, the Click2Sell platform is a quite easy-to-use ad campaign management platform. It contains a good selection of features, which are more than enough for a newbie who has limited experience using this type of platforms, as well as for experienced marketers.
Yes, I would have liked the platform better if I had been allowed to create my own headlines. But that's just me. The choice of headlines was pretty decent, and someone with no experience in creating promotional content can definitely benefit from this list. The analytics section is also good, providing valuable insights for each campaign. In all, Click2Sell.co is a user-friendly advertising platform and marketplace, with plenty to offer for both newbie and veteran online marketers.