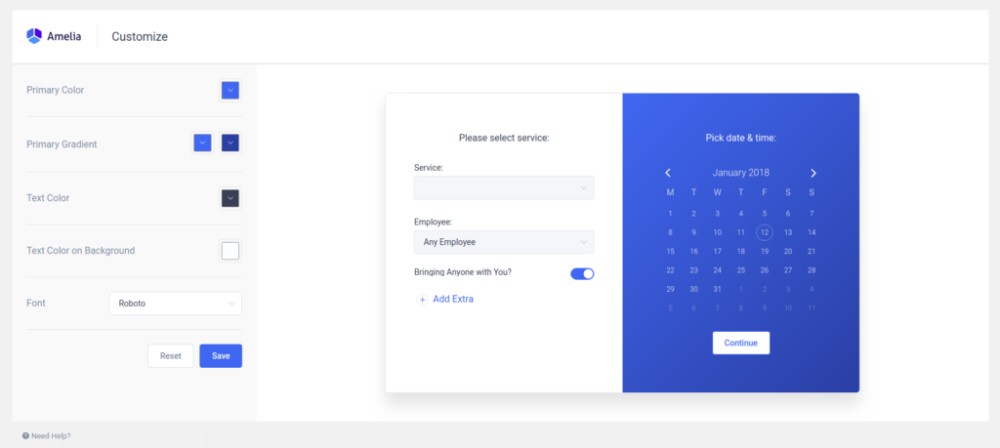 Do you remember the time when you had to walk to the nearest beauty salon to make an appointment? It has been a while since that time and things have changed a lot with the introduction of the new technologies.
Not so long ago, the majority of bookings happened over the phone. However, today, everything seems to have moved online which makes our lives a lot easier in many aspects.
That being said, if you own a business, you have to keep up with the technology changes and stay up to date with the latest trends. Do you know why? Because your competitors will definitely take advantage of the new possibilities and the only way to stay on top of them is to do the same.
With that in mind, if you run an appointment-based business, it is the right time for you to find yourself a good and reliable online booking system to help you manage all your appointments 24/7. But with so many appointment management tools out there, how can you choose the best one?
Don't worry, it is quite simple once you know what to look for. Here are 5 things that make a good online appointment booking system:
#1: It has to be mobile-friendly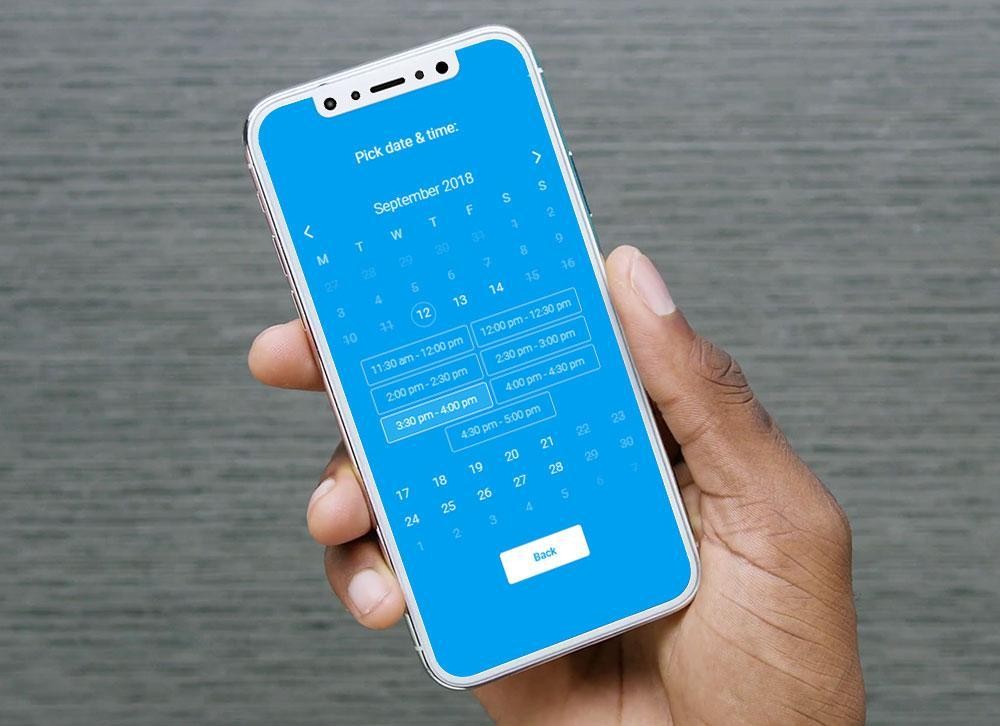 Did you know that the majority of online activities don't happen over the computers anymore? People nowadays spend so much time on their phones and tablets that the mobile devices have become number 1 devices used for anything that happens online.
With that in mind, it is only logical that the best online booking system has to be mobile friendly. Users want things to happen quickly and whenever it suits them which means that if a user wants to book an appointment while walking from their office to their car, they have to be able to do so.
A booking system that doesn't look or work right on mobile devices will leave your users frustrated and they will likely find a different service provider.
#2: It has to be easy to use
All the best booking systems are quick and intuitive. This means that they can be used by everyone; even by the people who struggle with modern technologies. The users don't want to waste their valuable time trying to figure out how your booking system works. They want to schedule an appointment as quickly and easily as possible.
#3: It should manage your appointments for you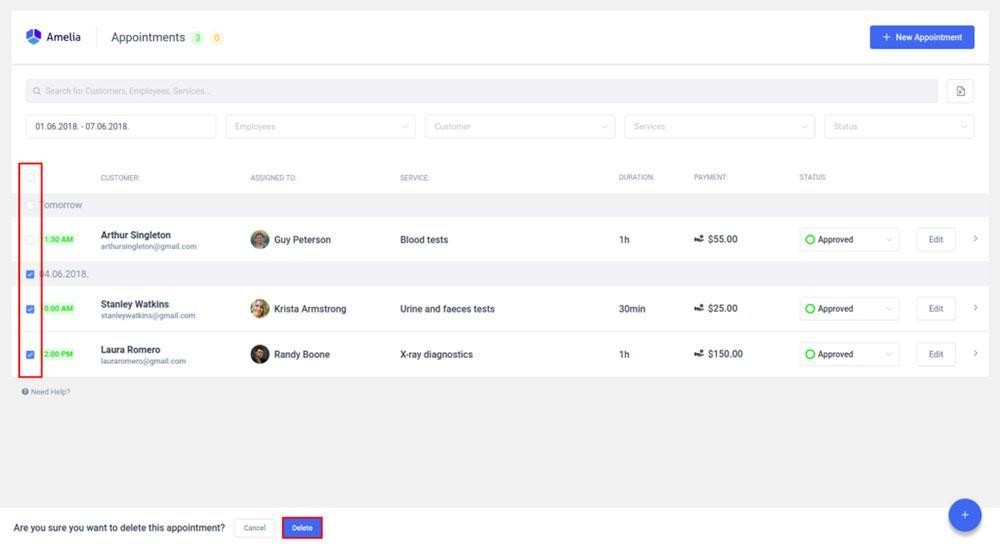 Once the user books an appointment, the work is nowhere near done. In fact, the best booking systems not only make it possible for the users to schedule the appointments online; they also manage the appointments beginning to end.
This means that your appointment scheduling system should come with additional features such as automated notifications, reminders, confirmations, and cancellation alerts.
Not only do these features help you stay up to date with all your appointments, but they also minimize the number of no-shows and cancellations.
#4: It has to be customizable
Customization options are important for several different reasons that should not be overlooked. Not only do they help you make your booking system look nice but they also make it possible for your appointment tools to become recognizable parts of your brand.
When customizing your online booking system, try to incorporate elements commonly associated with your brand's overall design such as the recognizable colors, fonts, logo, and other.
Additionally, you should also be able to customize the forms used for collecting relevant information from your users. Configuring custom fields per each booking can make your work a lot easier.
#5: It has to support multiple payment methods
Making online payments as smooth as possible is essential if you run an appointment-based business. Nobody wants to spend hours trying to figure out how to give you their money.
A good online appointment system supports multiple payment methods to make the money transaction as quick and simple as possible. It is not enough just to accept credit cards; give your clients a chance to pay via one of the most popular payment processors such as PayPal or Stripe.
Amelia – The Best Automated Booking Specialist
If you are looking for a reliable and trusted booking specialist that fulfills all of the 5 above-mentioned requirements,
Amelia
should be your top choice. On top of that, this system is completely automated which saves you a lot of time and effort while keeping your appointments and your overall schedule managed.
This means that Amelia comes with automated reminders, confirmations, and cancelation alerts that will help you take care of your bookings 24/7. However, if you wish to do to these things manually, you can still do so by disabling the automated features.
Amelia is a WordPress plugin created by TMS Outsource and it integrates seamlessly with Google Calendar, WooCommerce, and WordPress itself.
Here are some of Amelia's key features
:
Search Interface for Bookings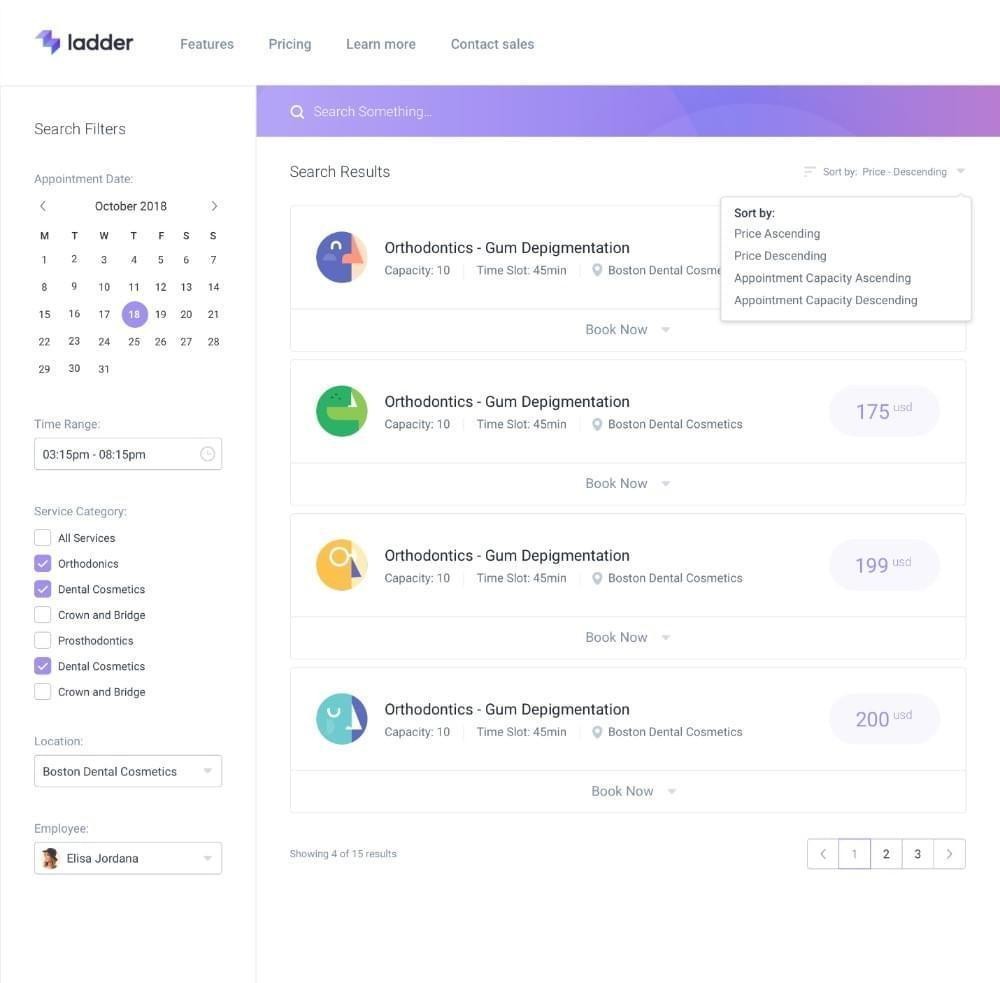 By using various filter criteria, you can easily search for the available appointments, services, time, employees, and more.
Step-by-step Booking Wizard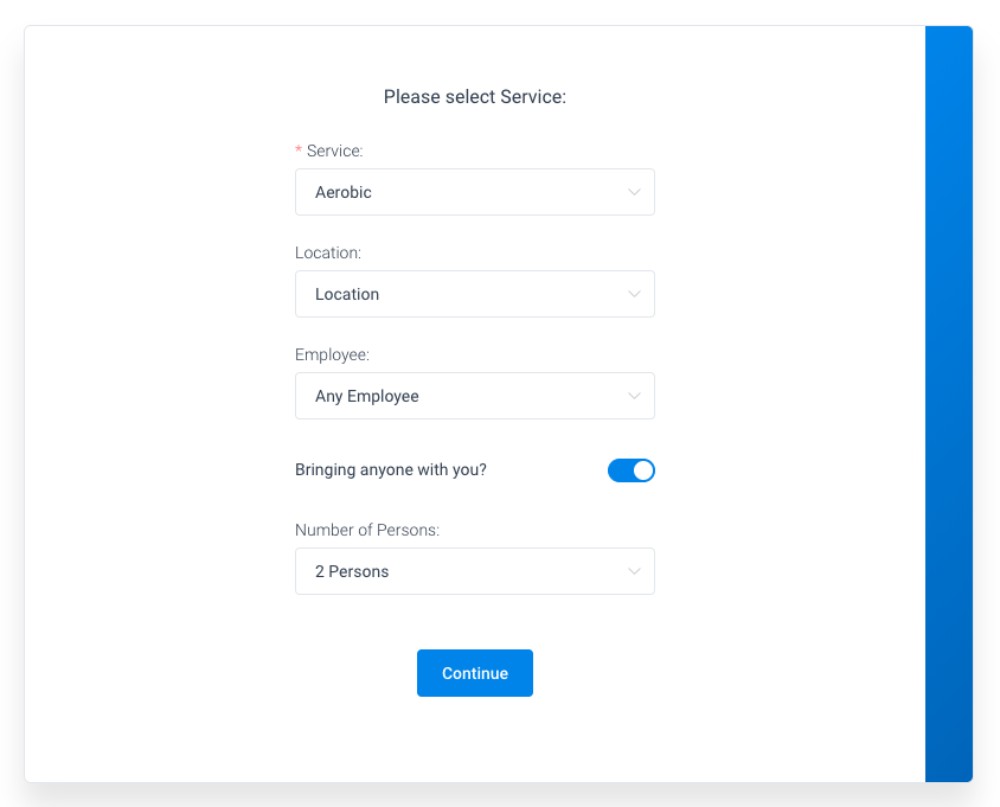 You can choose any parameter of your choice to set up an appointment; from the service to the employee.
Insightful Dashboard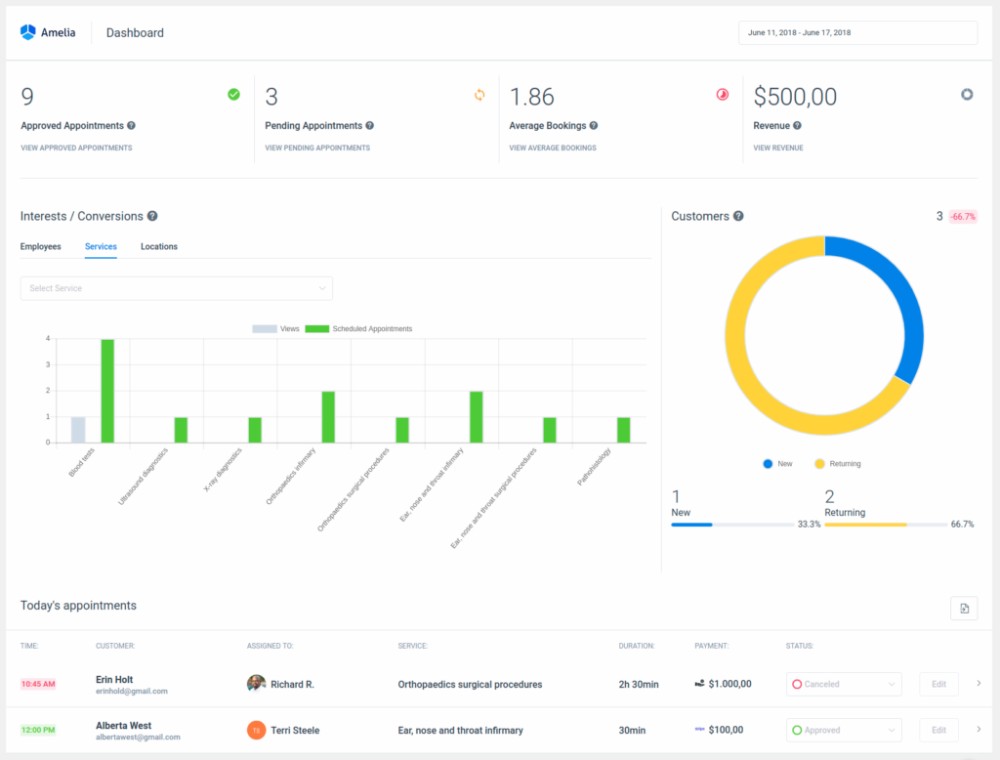 You will be up to date with everything regarding your schedule and your appointments thanks to Amelia's insightful dashboard. This also includes the reports on all financial and conversion-related KPIs.
Before Booking and Before Cancelation Settings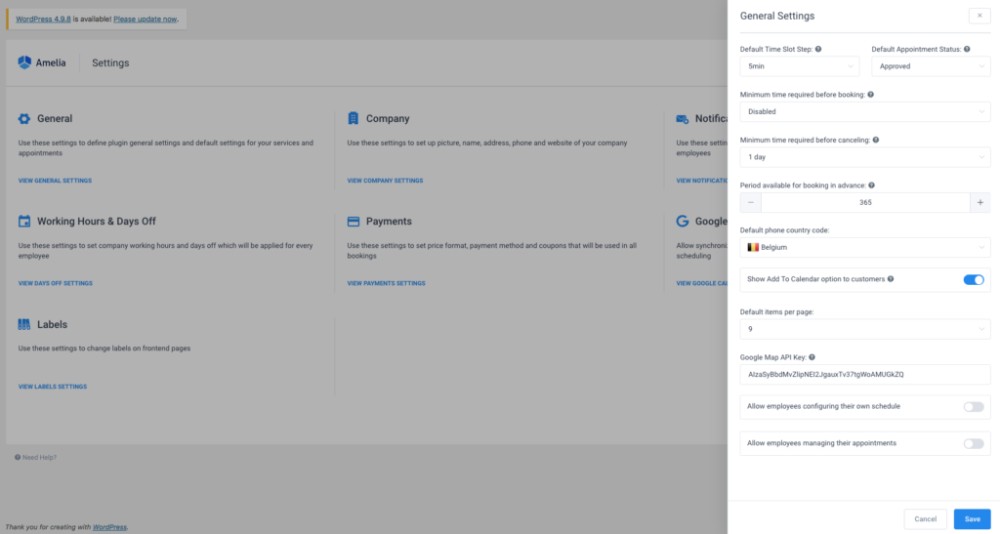 You can set the time before booking and before cancelation in any way that best fits your business.
Automated Notifications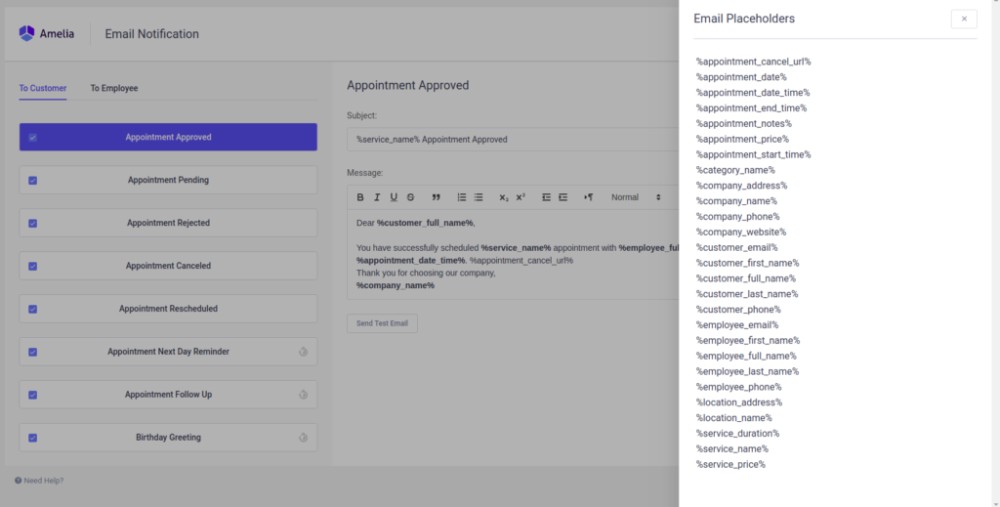 Automated notifications both for the clients and for the employees will keep everyone up to date with all existing booking changes. With Amelia, you can keep track of everything from active bookings to the users' birthdays.
Schedule Settings
There are many customizable schedule settings available in Amelia which means that you will be able to set up your calendar in lots of different ways, depending on your business' needs.
You can adjust the working hours and days, set schedules for each employee separately, synchronize the schedules with the Google Calendar, and allow the employees to manage their own availability.
Multiple Online Payment Methods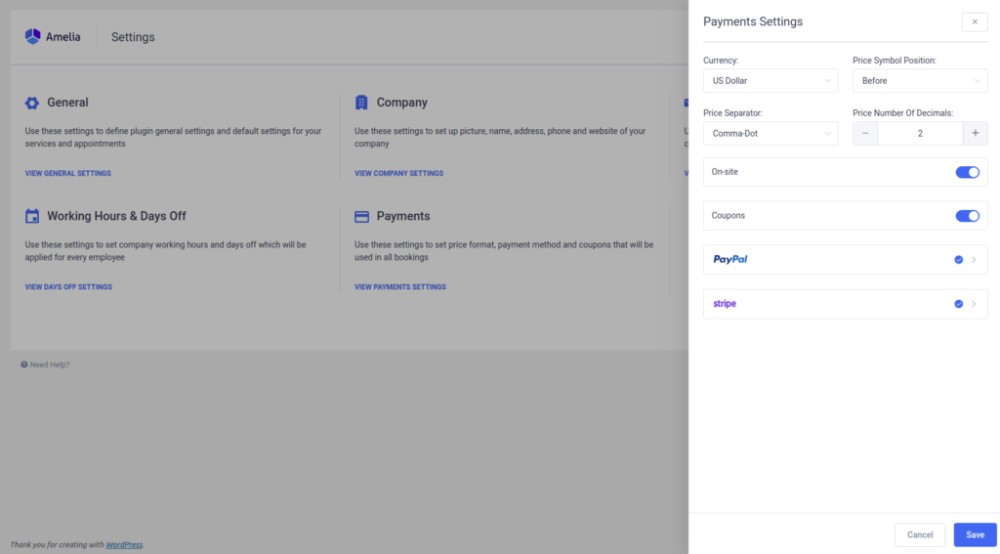 When it comes to handling the payments, Amelia comes with a set of useful features to keep things as smooth as possible. Not only does it integrate with the world's most popular payment systems such as PayPal and Stripe but it also integrates with WooCommerce which means even simpler invoicing, VAT/tax management etc.
Customizable Design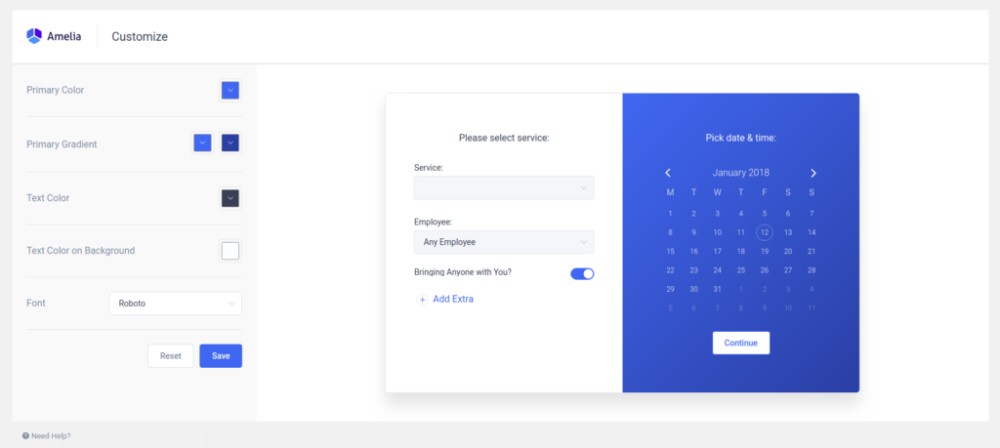 Your booking system can easily become a recognizable part of your brand with customization options that Amelia offers.
Customizable fields for booking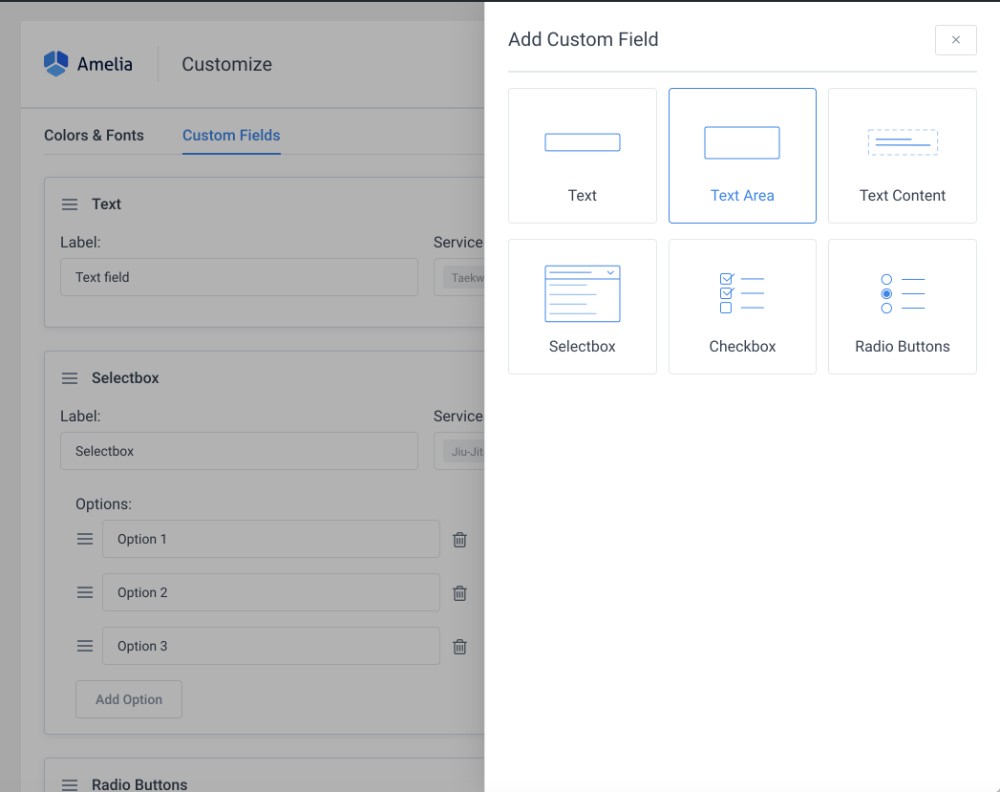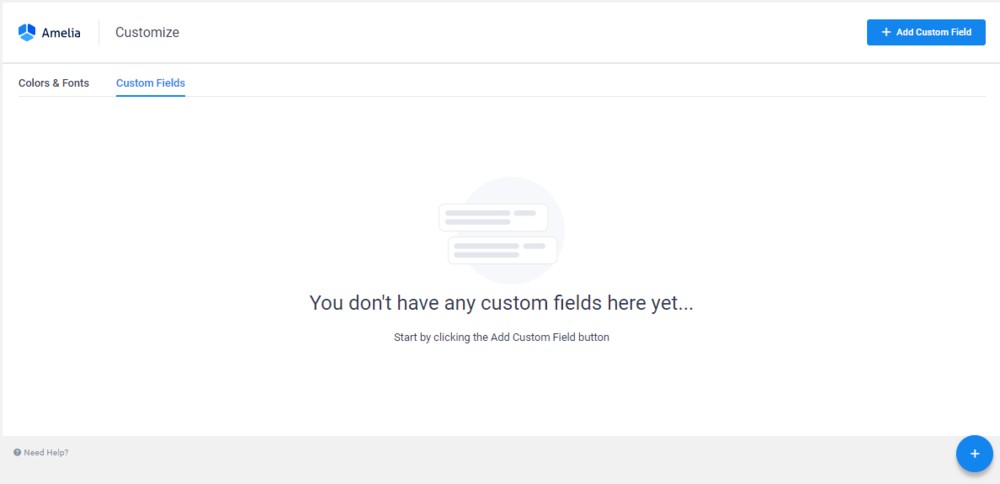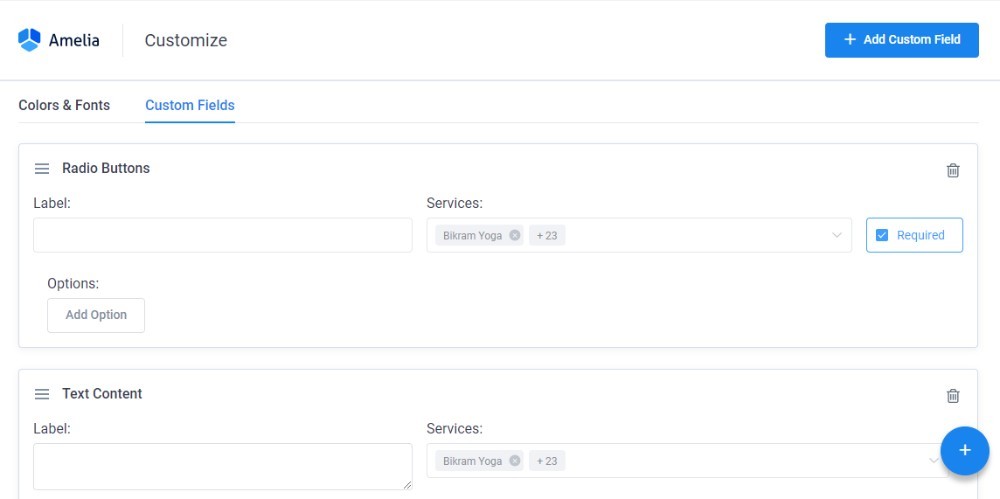 Everything in Amelia is highly customizable – and this applies to the booking forms as well. You can configure any additional fields that you think your business would benefit from (text fields, select boxes, checkboxes or radio buttons) and collect relevant data from your users.
Conclusion: Try Amelia – It is Worth It
If you run an appointment-based business, having a good and reliable online booking system is a must. You can easily recognize the best appointment scheduling systems out there by asking yourself if they fulfill these 5 basic requirements: mobile-friendly design, multiple payment methods, automated appointment management, easy-to-use interface, and customizable design.
One of the best online appointment booking systems you can find is Amelia. Not only does it meet the 5 key requirements but it also comes with other relevant features that can help you manage your bookings easily and with minimal effort.
Amelia comes with all of the above-mentioned characteristics and then some. If you like this plugin, you should also check out wpDataTables, the #1 WordPress table plugin online.