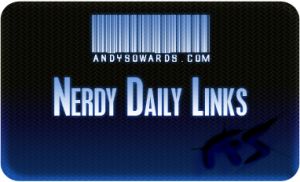 This has been a great week for AndySowards.com! Thanks for all the support from the subscribers and friends on twitter! You all make it worth the effort to keep this blog up to date and awesome

Hope you have a great saturday! And enjoy the links!
How much Twitter Influence do YOU have?

Quick and easy Javascript that Rounds HTML Div corners on the fly!

Adobe Air is becoming a desktop revolution. Here are some Air Apps you should be using, or atleast know about.

Laugh of the day, or your life.

Inspiration comes in all colors, this one so happens to be in Orange.

Do you 'Do Follow"? Do Follow Blogs are blogs that have removed the "no follow" tags. This means that when you leave a comment on their blog, it will appear on search engines as a backlink.

Want your designs in the new version of WP? Email them.

XHR is so 1997. Now it is time for some CSSHttpRequest action, a device that allows you to run cross domain Ajax requests thanks to a CSS hack.

If you are super picky about how your web pages look in different browsers, read this.

Kinda cool jQuery + Fancy Zoon!

LOL if you hate IE6, you will love this, it even has reference to all the IE6 hate on Twitter.

Gigantic Collection of Inspirational Blog Designs!

Quick and Easy walk through of how to make sexy CSS buttons. Really simple. Really nice.

Web Development/Design Nerdy Daily Links For 10/24/2008 – I thank all of you subscribers for hanging in there with me, I shall now reward you with another Daily Web Developer/Designer Resource List! This one is actually pretty huge too!

Awesome halloween tutorial! Great seasonal item! haha

Create, Publish, Earn

Really innovative and creative examples of how to use CSS originally. Great Resource for Inspiration.

Away from your Precious computer with Adobes Creative Suite installed? Need to edit an image still? Here are some great web based alternatives.

Love office pranks. Printer one is genius.

Great tool to learn HTML. or a Great Reference if you already know. Which I am sure you do.

The headline to this is just hilarious, but there is some truth to it.

A place to share feeds. Stop hording them! Share them!

An Astounding amount of Web Designer/Developer links.

Really useful collection of free resources that designer and developers like you and me can benefit from every day!

Great place for starting, and winning design contests. Good for Designers, or People that need designs.

Wow, You can buy and sell brands right here!

On his website, Jay offers some of the highest quality design resources on the net. Jay describes himself as a "designer, blogger, web enthusiast, and Apple geek" but you could also describe him as a design philanthropist.

If you love these Daily Web Developer/Designer Nerdy Techy Resource Links, Then Go to the source! Here is a complete list of all of the posts.

Apparently the economy can effect the tech world too!

Stressed? Don't be. Here is why.

For people with a tweeting problem.

Really Useful Advanced Functionality Google Cheatsheet

Amazing Image transformation.

Really nice Menu Drop Down

Web Development/Design Nerdy Daily Links For 10/24/2008 – I thank all of you subscribers for hanging in there with me, I shall now reward you with another Daily Web Developer/Designer Resource List! This one is actually pretty huge too!

Simply amazing photography.

Awesome Cloudy Designs! These are really good! Inspirational

Get your Google on with your Mac!

Cool Clean Design

Get your Learn on with jQuery.

Get your Portfolio out there!

Lose weight while sitting! Seat designed to reduce body weight. LoL

Got a Secret? I would suggest you keep it. LoL. Otherwise tweet it here.

Wonder when and why people quit following you? Catch them with Qwitter.

Great Content? No Traffic? Read this.
If you like this, You'll love These.