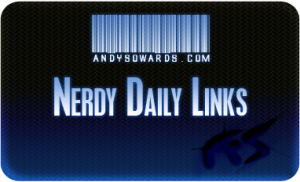 This whole week has been great for AndySowards.com The Traffic has nearly doubled here(Not that it takes much to double Nothing. haha.). Overall it has been a success, and I thank all of you subscribers for hanging in there with me, I shall now reward you with another Daily Web Developer Resource List! This one is actually pretty huge too, yesterdays was humongous, so this one is keeping up with that trend. Hope it serves you well! Enjoy!
Web Developer/Designer Inspiration
A few thousands of people visiting this weekly logo design gallery means the logos are very good, the designers are very tallented and it means that people like them.

Great Out of the Box Collection of Site Designs. Inspiration at its best.

Some Amazingly Creative UI Examples. Must See Post.

Cool Grunge Style Posters – Reminds me of Hollister posters. Really nice. Good Inspiration.
Freebies!
Humongous collection of Textures!
PC Tips
Javascripts!
Another Cool Lightbox-esque JS Script

Modal Box Rocks. Nuff Said.
Google Tips and Tricks
Quick walk through of Google's "Canned Responses" Setup

Quick Walk through of how to use Google Alerts for Link Development
Google News
Last week, Google's Patrick Chapman and Matt Cutts announced that they're experimenting with a new security feature aiming to alert webmasters on the potential for having their sites hacked due to the outdated version of their web applications, starting with WordPress only
Social Networks
Customize Your Experience.
iPhone Apps
Color iPhone app for Designers

Very Slick and Inspirational design on this Awesome iPhone App.
Twitter Stuff
Have your doubts about twitter? Read this then.

If you can guess how many twitter followers they will have by the first of the year without going over. Must be following in order to win.

Squeeze every drop out of your tweeting power!

Bloggers on twitter. Im on the list! Are you? Some good people to follow.
Social Network News
Social Networks and Money – LinkedIn Gathered some Major Funding
Nerdy Halloween!
Best Halloween Costume Ever, So Who wants to buy me this?
Freelancers Guide
Insight from fellow freelancers on why they decided to be their own boss.

Good training for Freelancers!

To host, or Not to host. That is the question.

Improve your freelance business with these awesome tips!

Being well informed about services and techniques helps mold a great Freelancer. Or Any Web Developer/Designer/Programmer really. Get in the know!

We all know the internet has tons of methods of wasting our time. Well get it back!
Like these links you see here? Syndicate!
Web Tools
Favicon not working? Validate!

Too Lazy and or Ignorant to code clean CSS? It happens more often thatn Not. But Have no fear. This thing is here.

So 22.3% of people STILL use IE6…..Why?
Blogging Tips
Add a Newsletter to your blog? Why? Read on.

Good question eh? See tons of peoples answers and reasons to slave over their blogs.
Amazing Animations
This is a product of Flash, Math, and Physics. Definitely worthy of a Daily nerd Link.
Email Marketing
Sendcube is an email marketing system, More notably, their site design is pretty cool, I especially like the giant 3D RSS logo.
WordPress Plugins
Cool site that has a WP Plugin that let checks your commenter's blog for recent posts, and posts a link to the most recent one if they choose to.