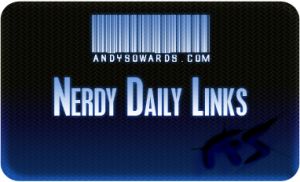 How has your week been? Its TUESDAY! 2009 has been EXCELLENT so far, I hope the same is true for you! Now Get your Daily Nerdy Web Development/Design Links!!
Web Development/Designer Resources, Inspirations and Entertainment!!
Interview with Adelle Charles from FUEL

Awesome ways to Visualize the Twitterverse! Nice!!

TONS of Designer Resources! PSDs and Everything!

Multiple Links in One Link? Egads!?

Inspirational Beauty of Urban Decay!

Truly Great Illustrator Tutorials!! Must See!!

Awesome Adobe InDesign Toolbox!!

Awesome 8-bit gaming design and stuff!

AMAZING Light Graffiti! Love these

Good OOP Intro – Tutorial

Great Resources for Web Design!!

7 Things about Kyle Place, I was called out, now I have to do 7 things about me!! LoL

AWESOME typography based objects, really inspirational

Problems with Macbook Pro Screen?

http://www.blosmo.com/blosmo/2009/01/apple-keyboard-concept.html

Top Domain Name Sales Ever! Outrageously Expensive!!!

Nice Tutorial! – Create a Realistic CD!

Twitter Social Mashups that are Kicking the Crap out of Digg! Srsly check them out!!

Fastest way, but use caution, some hosting providers have old versions of wordpress that they allow you to install, make sure its up to date first

Good read about Niche Blogging!

Good to know if you need Logo Design done for you and do not know what to expect!

Another Great Roundup of the Best of the Week for last week!!

Be Worth Following, and people will follow you! Its that simple! Good tips!

Wonderful Illustrations! Inspirational!!

EXCELLENT use of old and worthless PC's

Alternatives to Earning online other than Adsense

A Good read! Inspiration from 37signals!

Awesome Background Generators!

MORE Awesome Generators!!

Win an SSL Cert!

Good tutorial on PHP Emails!

Whats in a name? How should you name your blog?

Need an out of the box PHP Mail Script?

AWESOMELY Inspirational Motion Graphic Designs!

AMAZING Examples of Vibrant Web Designs!! Inspirational! Nice sites!

Good Info to have! Custom Google Search Results with PHP!

AWESOME jQuery Plugin for the side of your page

ULTIMATE LIST of Badass Twitter Themes!!

REALLY Nice CSS Websites!!

Good read on Image Caching with CSS, easy technique to use!

TONS of CSS Resources!!!

Check it out!

Cool Word Press Cheat Sheet! Good for Reference!

Nice Vintage photo effect tutorial!

TONS of cards being given away! Go get yours!!

REALLY Inspirational 3D Sidewalk Art. Nicely done

Funny Graph of the Over usage of the LOL Acronym

Nice Video explaining Forced Carbon Copy Demensions and DPI On new Documents in Photoshop!

A Good read of Modern Lists in Web Design!!

Hilarious Politics modified with Photoshop Liquify Tool

Amazing paintings from 1910 that predict the future!!

AWESOME advertisements and Promos! Extremely creative!

Hooray for Suggestions!

Great list of WordPress Best Practices after Install

Get the most out of twitter with these Web Apps!

Top 10 Twitter Apps!

This is truly the BEST 3D Typography Collection I have ever seen. Well done hongkiat. well done

CRAPLOAD of URL Shorteners!!

Has Obama become Waste in your Social Networking Friend list?

I bet some people would

Great tools to track your RT's!

Awesome Minimalist Desktop Wallpapers!

Great read for Designers in need of some jQuery Tabs!

Achieve Simple Pop Menus with jQuery! Nice and Easy

GREAT Web Apps for Designers – Make life easier
If you like this, You'll love These.