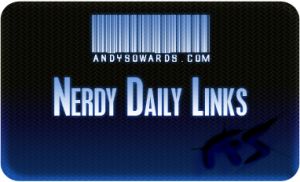 Its the middle of the week! This is where the week starts to drag, but not today! Today we have a HUGENORMOUS Episode of Daily Nerdy Links to power you through the slump! Now Get your Daily Nerdy Web Development/Design Links!!
Web Development/Designer Resources, Inspirations and Entertainment!!
Simple HTML Redirects are still useful from time to time

great read! The Secrets behind logos!

Awesome place to test your page for cross browser variations!

Great look into how those horizontal websites are built and laid out!

Good read pertaining to Web Usability and Interaction Design Frameworks!

Collection of Old Microsoft T-Shirts

So much about Snooty designers today! LoL

Its the little things that count – Designers

Recession Proof your Startup! Good TIps!

Learn some basic Photoshop brush techniques with this tutorial. Very nice!

History of Python!

Kindle 2.0 To Be Announced? (RUMOR)

Dell offering Discounts Through Twitter!

Get Productive with these tips!

The Celebs are on Twitter now, does that make it less cool?

Be A Success at Twitter!

Some Simply Stunning Package Designs!

Good Tip on Merging Multiple PDF Documents Together!

The Era of Twitter!

Awesome Vector Tutorial! Old School Nintendo!

Good Question

Cool web Analytics with Clicky!

Great jQuery Slider Effect!!

To CSS Framework, or not to CSS Framework.

Great Font Technique!

Sweet Flash Tutorials!!

Resources for Designers by Designers – GOOD STUFF

More AWESOME PSD Resources and Icons for FREE!

Great Read for Javascript debugging! – Advanced

Great Places to find Creative Jobs!

Vista = FAIL, if you didn't know already.

Cool wallpapers!!

Great Programming Resource! Algorithms!!!

Everything is all diagrammed! Influence ripples and Social Media Fragmentation!

Cool stuff for typography nuts!

This is a cool Free Service!

Awesome Vector Tutorial!!

CSS vs. Tables? I say CSS. What Say You!?

According to this cloud im bigger than Obama!

Awesome SEO Sites!

Angry? Vent. Here are some cool sites to do so!

Good trick for wordpress!

AWESOME Website Designs from January!

Clean links are happy links!

Another Great Roundup of Minimalist Websites!!

Awesome Video – Stand out!!

This may change the way you code! Awesome resource!

A Look into Editing WordPress Themes with Dreamweaver!

Wrinkled paper texture!! FREE!

Awesome SOcial Icon Pack! Freaking cool

Get your clients to promote you in a non sleazy way!

Good read if you can't figure out why people write so many jQuery Plugins

Designers? Snooty? WHA?

Good tips for running a web development company!

Awesome Deals for Valentines day! Cheap laptop! Might get that for my wife

Freaking AWESOME iPhone Springboard! NICE!

Be on the Defensive when you code (best method in my opinion)

Cool Screensavers that do something Useful!(or really cool) I like the twitter one

Rumor: Background Tasks on iPhone! Nice!!

Extremely High Quality and Useful PSD Files!!

Huge collection of great wallpapers! Inspirational!

Awesome Notepads and Journal Designs!!

Awesome list of Tax Deductions Freelancers can make, Didn't know about a lot of these!

Awesome jQuery Tip! Quick and easy way to resize fonts!

Dang! The video was posted in 2006 and they are still going!

Awesome Roundup of Avatars!

AWESOME Font Management App for the Mac OS X

Freaking Awesome Photoshop Tutorials for Web Layouts – USEFUL!

Great Resources to make our lives easier as Web Designers!

AWESOME Patterns! Seamless and useful!
If you like this, You'll love These.