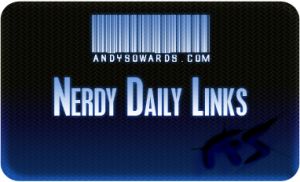 The week is still trucking! I am enjoying this warm, tropical-esque weather we are having here! Grab some daily web development/design links while they are hot! Thanks everyone for all the love and support, I appreciate you all! Now Get your Daily Nerdy Web Development/Design Links!!
Web Development/Designer Resources, Inspirations and Entertainment!!
Awesome graphics to build conversion rates!

Good look at the BackTweets API

Great look at slideshows in Web Design – How and When to use

Great tips for better meetings

Awesome Graphic Designers/Artists !

Great collection of Industrial Decay Images

Good read about social media and friends

Great roundup of awesome Flash Sites!

Need to boost your rankings in Google? Setup an FAQ Page

LOL Awesome roundup – Hilarious

Great look at CSS-Based forms – The future! No tables! Bleh!!

Are your clients good clients? Check out the list of good characteristics to find out

Social Networking is more popular than EMAIL? Kinda figured.

Awesome and Inspirational Artists and Images!!

Awesome random number generator!

Great new way to beat searcher's block

Twitter Search Progresses

Great look at 2009 Logo Trends

Great CSS Trick – Hidden Links

Great collection of MooTools Scripts!!

Great read – Getting started with MySQL

Sweet ajax newsletter module!!

Another great list of WP tips, hacks and the like

Great video tutorial for TweetDeck

Awesome Logos!! with commentary

Great google calendar tips

Teaser Rumor – Snow Leopard awesomeness

More awesome packaging

Awesome wine graphics

Good read about 'Brandjacking'

Great tips for success with a new business

Awesome jQuery plugin for plug-play google maps UI

Awesome illustrated characters – inspiration

Apple store moving to D.C

Awesome phothoshop layers shortcuts

Traveling trends for business in 09

GREAT list of AJAX and JS techniques! NICE!

Quick tip on changing your twitter username

Decrease page loading times, good read

Work smarter with these twitter tools!

Good read for designing from paper to photoshop

Great interview with a great guy!

Great alternatives to the cafe!

Win a Camera Bag!

Great read about the importance of Headers
If you like this, You'll love These.