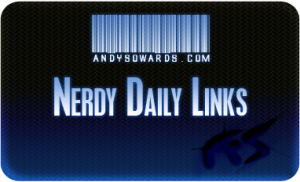 Its Hump Day! I am having a good day so I decided to be generous and give you the HUGEST NERDY LINKS POST EVER! This is seriously the biggest one so far! So Enjoy!! Thanks everyone for all the love and support, I appreciate you all! Now Get your Daily Nerdy Web Development/Design Links!!
Web Development/Designer Resources, Inspirations and Entertainment!!
Creative glasswear!!

Extremely useful roundup for Programmers needing help with version control

Great resources for success with freelance graphic and web design!

My good friend @adbert is now rocking the blogosphere! Check him out if you are a supergeek

WordPress stats plugin

Good read on how to network

Great typography tutorials – stunning results

Great presentation on designing a good API

Awesome accounting software for freelancers

.htaccess is a wonderful thing. Block those image hotlinkers!

Awesome and useful tools for web devs – FREE

Blogs losing authority?

Crazy stuff! Worth a watch!

iTunes gift cards hacked? Nice

Feed the world

Prizes at the Line25 Launch party!!

Quick and easy usability testing

Great google timesavers

No Actionscript skills? You can still animate stuff

Great icon sets for web app developers!

Great tooltip resources

NICE! awesome UI Tabs functionality with jQuery

Great list of code snippets for web devs – CSS

Classic Vector Painting w/ Watercolor Tutorial!! NICE!

Manage your text changes in inDesign!

AWESOME list of apps for mac!

Good read about adding strategy to your service offerings

Awesome read about information architecture!

Gmail Fail again?

Apple trying to kill renegade iPhone app store

Great tutorial of jQuery and CSS Display Switch

Delete accounts on any website

Great look at a cool party SXSWi

Great photoshop tutorials for glamming it up

Interview with a great designer!

Sweet photoshop tutorials

Are you sending the wrong message?

Awesome iPhone Photos!

Great plugins for newb blogs

LOL This is awesome!!!

BEST WP PLUGINS to power up your blog!

Hilarious Error pages

Great tutorial for enhancing your color workflow in photoshop

Good read about marketing your website on the net

AWESOME Dark Designs – Inspirational

Usability Testing – Cheap!

Tons of awesome illustration tutorials!!

Great read! Go with the gut!

Review of the eBook – Ultimate Freelancer

Awesome Icon Set!!

Designer Life – The Truth!

Awesome wallpaper tutorials!

Great list of Creative Twitter Backgrounds

Great read about Communication Gaps and how to fix them

Cool leaves icons!

Great tutorial for finding the Area of an illustrator object – Geometry class flashbacks?

Quick and easy HTML – 2 – PDF converter

Review of the twitter tool – Destroy twitter

Free Texture! FABRIC

Ads at the end of your tweets? Worth it?

Great legal sources for free stock images!

Great technique for adding auto-complete to your WP Blog

Get rid of that annoying please update now WP message

Java powered twitter apps!

A new CMS to look into

Awesome FREE image editing app

Love this scrolling effect – Its pretty common, but for those who don't know

Innovative pagination technique

Great tips to be revisited by Bloggers

Funny roundup of expensive video game castles – Cribs for Video Game Nerds 😉

Good tips for reducing your server load

Great read – Nice ideas for visualizing your data – css and programming

Nice Green Eco-Friendly Icons

Nice – Smartphones and Google Analytics

Great read on improving web typography – Nice Examples

An example of how NOT to display data

Some great tutorials from @chrisspooner

Awesome services designers can offer their clients

Awesome moleskin give away!!

Great read about CSS Sprites

New and awesome web design blog from @chrisspooner Good guy!

Great examples of Image Replacement

Awesome CSS Tips!

Newspapers – fold or go digital

Great read about pagination

good interview with Chris Coyier from css-tricks.com

Good sites that host files! and are FREE

Hilarious – But I always seeded generously!

Great ways to make more money from blog sponsors!!

Awesome Guide to Design – Used to love Calvin & Hobbes

Funny video of the creator of comic sans – Listen to his opinion of the font and how it is viewed today!

Awesome music add-ons to FF

Awesome roundup of Airline logos!

Freaking awesomely themed restaurants – Some well designed

Awesome wp plugin to create links to twitter with @username mentions in posts – great idea

This is just funny. send your friends here if they FAIL 😉

Quick and easy look at the Twitter API w/ php and ajax

Hooray for renting

Awesome and Stylish Forms working with PHP & AJAX! NICE

Awesome Text Editors for Mac OS X

Nice portfolio effect achieved with none other than jQuery!