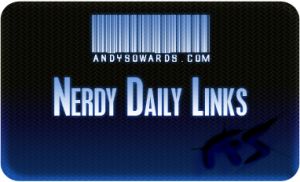 Awesome week. How was yours? Drop me a line and let me know! Lots of random awesome stuff from the web yesterday, some of it is hilarious, some great tutorials, nice inspiration, just a solid group of links! So check out todays links and pass it on! Thanks!! Thanks everyone for all the love and support, I appreciate you all! Now Get your Daily Nerdy Web Development/Design Links!!
Web Development/Designer Resources, Inspirations and Entertainment!!
SWEET Photoshop actions for photo enhancement

FF In Real Time?

This is stunning. so much gum.

We want twitter to integrate a RETWEET Button! Sign the petition!

Awesome tShirt designs!!

Awesome Blog Designs! Inspiration!!

SWEET for beginners! Using Textures

Awesome SEO Plugins!!

HUGE Web 2.0 guide!

Awesome Motion Graphics Blogs!!!

LOL hilarious.

Those pillows rock.

Awesome Designers on Twitter!

Awesome Logos with hidden messages

Great guide if you use WordPress for your portfolio!

Awesome Cluster tool in Cinema 4D

Twitter on homepage of MSN

Amazing transparent backgrounds on computers

Straighten up a horizon – Photography

Awesome anti spam web forms

Awesome uses of WordPress

Awesome Paper Textures!

be an adobe expert

Awesome MT Dew and Pepsi packaging

Excellent read for those starting out as freelancers!

Awesome and Unique ideas for Business Cards!

LOL @ Celebrity apprentice graphic designers

LOL @ Swine Flu on twitter

Awesome tutorials at Tutorial 9!!

Great posts for designers!

Great backup software for PC

Awesome art and design twitter accounts

Great jQuery Lightbox Clones!

Awesome Texture Art!

Good read – Make our photo portfolio rock

Now this is a cool app to waste a saturday with

Excellent Design Concepts – Futuristic Inspiration

Excellent jQuery photo gallery/slider plugins

Really inspirational websites!!

Awesome Flash Development Tuturials – Games and FLA Files

Amazing illustrated Owl tutorial – Mechanical Owl

FREAKING SWEET FLIPPING BOX! – jquery

Awesome interview with Jeffery Brown

More news about twitter and new users leaving

Twitter trouble with new users?

Great Header Designs

Excellent designers on Twitter

SWEET iPhone app websites!

Did not know this was such a Day!

Brand new photoshop tutorial site

HILARIOUS Web developer cartoons
If you like this, You'll love These.