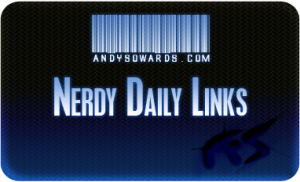 Its Wednesday and If you haven't heard, my Great Grandmother Died last night at the ripe old age of 100! Sad news to hear but she had a very fulfilled and long life, I dedicate today's links to remember her life! Hope you enjoy today's post and pass it to a friend! Thanks everyone for all the love and support, I appreciate you all! Now Get your Daily Nerdy Web Development/Design Links!!
Web Development/Designer Resources, Inspirations and Entertainment!!
Awesome Tips for Success when Freelancing on the road!

Awesome Drupal Sites! Nice Designs!

Very interesting read – Do Freelancers need a resume?

FriendFeed now has themes!

Awesome Ajax Auto Suggest Techniques!

Great read – keep up with blogging trends

Business Cards!!!!!

Fantastic Desktop Wallpaper Calendar!

Fantastic Typography Art!

Lots of Widgets, if you are into that sort of thing!

Awesome Features in FF 3.5!

Fantastic list of Flash Menu/Navigation Tutorials!

Great read on getting yourself out there

Fantastic List of Design Blogs! Each and every one of these ROCK!

Wow Tutorial9 is for sale, such a quality site is sure to go fast!

lol hilarious

Very nice new look to freelance switch

Awesome WordPress Themes for Portfolios

This is pretty awesome

Awesome Black Magic Marker Icons!

Beautiful twitter visualizations

Really nice layout tutorial

More Inspirational web layouts!

Awesome free logo design giveaway!

fantastic Layouts in Web Design

Fantastic Polar Panorama Photography

AWESOME STUFF from June!

Pirate bay under new management?

Awesome Presentations for Devs!

Awesome Multi Select transfer plugin for jQuery

Awesome MobileMe Web Interface

Tons of Joomla Tools!

Awesome USB Flash Drives – Funny

Hilarious and awesome Geeky Graffiti

Apparently twitter turned a bad situation into a good one!

Awesome Mac Setup for Photographers!

Awesome Ajax Framework

Fantastic Workspaces!!!

FANTASTIC ICON DIRECTORY!!!