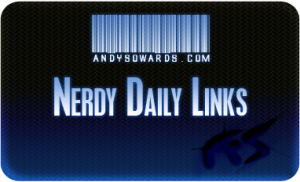 Another week is kicking off today and I feel like its going to be a good one! So Get busy and curl up with some Daily Nerdy Web Development/Design Links!! I want to Thank all of my Friends and Supporters for keeping me in the Top 10 on http://www.retweetrank.com/! Your efforts are much appreciated! Now go check out Todays Daily Nerdy links!
Web Development/Designer Resources
Good tips on how to avoid the Common Photoshop Abuses and Mistakes!

Great tips for Print Typography!

Good Methodology for Creating Design Mock Ups for your Clients

Turn your background Images into Clickable Links with CSS

Awesome CSS Frameworks, Templates and Snippets for the Smart Web Developer, Take advantage of these!

Nice! T-Shirt Designer's Toolbox, definitely a ton of resources here.
Web Development/Designer Inspirations
Inspirational Collcetion of Illustrations in Web Design

Awesome Chinese New Year Resources!

Awesome Muted Site Color Inspiration!!

Simply INCREDIBLE Photoshopped Photos to spike your Inspiration!
Freebies!
Awesome Retro Line Brushes!!

Great Resources for Freebies! Stock Photos – Etc.

Flash Banner Creator Giveaway! Leave a Comment and WIN!
Freelance/Business/Marketing
Follow your inner Freelancer!

Really? It can HELP? 😀 Im gonna be WAY productive then!

Increase Effectiveness with a Landing page!

Looks nice to have a quiet, simple office like 37 Signals
Startups
Great read if you plan on building a web app

This girl will apparently wear the shirt of your startup, company, service, whatever. and promote you. LOL
Tutorials
Really interesting video tutorial
Best of
Another Great Best of Last week Roundup!

Another Great Best of the Week from Arbenting!
Web 2.0 News
Who's Watching YOU right now? Better put some pants on.

Privacy Issues in the Social Mediaverse

Weekly Wrap up of Web 2.0 News – Great read.

Google Gets Short URLS! Bout time.
Twitter
RT'ing is all the rage

Quick tutorial of writing rules by Creating Filters in Gmail!

Who needs RL Friends on Twitter? Pffttt

Directory of Businesses on Twitter

Very Inspirational Showcase!
Social Media
Awesome places to promote your designs! Nice!
Blogger
Really good tips for creating a SideBlog on your BLOGGER blog

Cool Widgets that make life easier if you use BLOGGER

If you are unfortunate enough to use Blogger, here are some good tips for customizing the thing.
WordPress
Collection of links for Learning to Make your own WordPress Theme!

Great tip to Test out your WP Themes!
CSS
Good read about Organizing your Stylesheets in CSS

Are you familiar with the Box Model?
UX
good read about usability and links in content!
Windows 7 – Beta – FREE