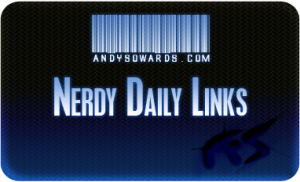 Now that October is in full swing, Everyone has Halloween on their mind, so today in 'Nerdy Daily Links' Hopefully you enjoy the Halloween store I found and linked to, it has a ton of great stuff! Everything else is a range of tutorials that I rounded up to help work on your Web Developer/Designer skills so you can always be improving! As always, comments and suggestions on making the posts better and more informative are always welcome!
Thanks for visiting!
Now go get your buried treasure!

Web Development Tutorials
CSS tabs are apparently the future, Its fast, elegant, and functional. You see those tabbed things all over the net now, how bout giving it a try on your own?

Need a portfolio site? Not sure how to make it hot? This tutorial can help.

Great collection of inspirational vector illustrations! Must look and be inspired!

Great site with tons of resources and compilations of feeds for web development standards and CSS! Check it out!
Adobe Air – Desktop Development Intro
So whats the big deal about adobe air? Its a revolutionary concept that allows you to build cross-platform desktop apps! Check it out!
Want Moar Google Products? Be the first to test them.
Want to test Google's products before anyone else? Sign up here!
Twitter Entrepreneur?
How to use Twitter as a serious networking tool, Looking at twitter through the perspective of an entrepreneur. Interesting read!
Urban Dictionairy – TMI?
TMI? If people throw acronyms at you all day and you are like WTF does that mean? Turn to the urban dictionary. keeps me up to date so I don't look like a total n00b.
Web Designer/Developer/Geek t-Shirts
Great t-shirt line, Geeky, yet stylish. If anyone wants to buy me one of these, feel free ;). These are reviewed by Hongkiat.com A Very trusted source for my resource needs 😉 Go check out his review.
Halloween Costumes! (I know, nothing related to web development at all LOL oops)
So its October, and Everyone is talking about Halloween coming up. Have you gotten your costume yet? This is probably the best site on the net. Have a look!
37 Signals – Getting Real
Do you develop web applications that potentially thousands or millions of people will use? Do you want to know what the best strategy is on doing that? Well its simple. Keep it simple. MUST READ BOOK FOR ANY WEB PROGRAMMER/DEVELOPER.