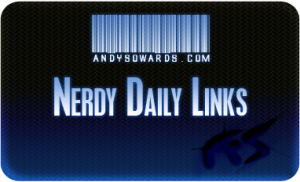 Today is a Milestone for me here at AndySowards.com! This will the the 50th Daily Links post since this blog started about a little over a month and a half ago! I Would like to take this time to personally thank all of the Subscribers, daily visitors, and twitter friends for making it a success so far! I am proud to keep those nerdy web techy web developer/designery Resources coming to you each day! For the 50th post there are a TON of links today. I will be planning many more fun and exciting things for this site soon! Enjoy!
Video Tools
Simplified Universal Player Encoder & Renderer.
A GUI to FFmpeg, MEncoder, MPlayer, x264, mppenc,
FFmpeg2theora & the theora/vorbis
Web Business/Marketing
Promote! Promote! Promote! Yourself. as a Designer.

Put all your ducks on the table!

New blog with a Super huge post with some nice images of their new location! Inspirational for any freelancer aspiring to own a company!

Don't make these dumb small biz mistakes!

There is more to it than that??
Twitter Stuff
Good sites for finding people to follow on twitter!

Twitter removes Delete? Eh? I guess we are supposed to think even HARDER now before releasing 140 characters into the ether.

Wow, cool twitter hackage!

Uber list of Twitter Posts! Another great idea, by @ImJustCreative
Christmas Wishlist for Designers
Send this list of items to anyone that is shopping for you this season 🙂

I really need one of these for christmas…
iTunes Sucks
Kind of funny/serious list 🙂
Web Developer/Designer Resources
Best Web Design ToolBox EVER. ITS HUGE!

There is a lot involved!

Good article on design and development workflow

Cheat Sheets for all!

Web Development/Design Nerdy Daily Links For 11/05/2008 – I am trying to get an early start today. now go and learn from those nerdy web techy web developer/designery Resources! Enjoy your day!

Here are the Must Have Apps of the season for us Designers and Bloggers
Web Developer/Designer Inspirations
Inspirational Designer Interview!

Some really nice Sites that are Bookmarkable!

Pretty amazing. Must see flash promotional site.

Check out the new redesign at Arbent.net!

Daily Frustrations, they happen, Heres some help on getting through them.

WOW! These are pretty OUTRAGEOUS. How did they think they would get away with that??

Another great redesign! They are all over the place!
Maximize that contact form!
Get more email from that contact form!
Tech Gadgets
jQuery Examples
Yes you can switch stylesheets with jQuery. You can do anything with Javascript, pretty much.
Freebies!
Web 2.0 News
Apparently the election went well for Facebook.
SEO Tips
Get your site on googles 1st page. Now! and keep it there!

SEO'etize your press releases and posts!
Web Tools
Still think this is the best Online Editing application suite available!

Freaking awesome Online Image Editor. Basically Photoshop in Flash.

Awesome Color Generator Tool

a new url shortener. Tracks the number of visits on links. Widget for Mac users available for download

Easily share files across Mac and PC(Windows)!
Contests
Start nominating for the Open Web Awards!

You can win one of these Premium WP Themes!

Font Competition! The first-place winning entry will receive a copy of the FontBook;
Links are Important
Who knew links were this important. Sweet! I got a ton of em to hand out lol
Blogging Tips
Blog niches to dominate! Are you in one of these?

Blogging Tips! Don't get Mad!
Project Management Apps
Really nice project management systems!
WordPress
Some really nice plugins for your blog to socialize it!

Quick CSS explination of the Sticky Post
Illustrator Tutorial
Illustrator in 3d! Tutorial
Top Graphic Design Magazines
Some of my favorite Magazines. What are some of yours?
Favorite Daily Listings
Leave all your favorite daily listings here! or help support daily links! 🙂
IE Sucks. But Sometimes Necessary.
Incase you have to use IE5 or IE6. god forbid.
CMS News
PHP Programming
php programmer interview

Good read for programmers needing info on hooks in action helpers. PHP all the way.
Social Network News
Facebook integration all over the place!