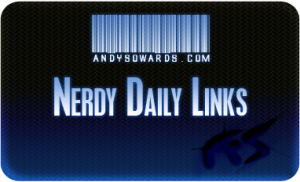 Really great weekend, Very Productive! AndySowards.com has been featured on naldzgraphics.com this week, really honored to have the shoutout. I hope you guys have gotten a lot out of Daily Nerdy Links posts this weekend! I hope all you Subscribers are getting some good tips! If not, Please send me some comments or suggestions! Now go and learn from those nerdy web techy web developer/designery Resources! Enjoy your day!
Wi-Fi News
Great concept, hope it catches on, Freaking awesome.
Blogging Tips
Take your blog to the next level with these tips!

Want your blog to get noticed? Follow examples.
Twitter Stuff
Contribute to the Twitter Services and Contacts list!

Demo and code for a script that basically creates a webpage that you can use to display your own Twitter updates. Uses Twitter API. Good Insight to using Twitter API
CS4 Review
CS4 for Photographers, Whats in it for you?
Programming Inspiration
Another good talk from Jason Fried, Founder of 37 Signals.
Design Contests
Submit a great design for Threadless T-shirts and you can rack up some dough! And some shirts!
Designer Resources
Some good tools for designers like you!

Overused Techniques in Graphics From Designers POV. – I'm Featured 🙂

Can't get enough images!

If you have not tried out voteTime, You should, Good voting system.
Web Developer/Designer Inspirations
Great collection of some amazing sites from this month on Nalds Graphics, Yours truly is featured so you know its a good list! 😉

Web Development/Design Nerdy Daily Links For 11/02/2008 – So this has been a good productive weekend for me, getting some programming work done for clients AND getting startup stuff done as well! I hope you guys have gotten a lot out of Daily Nerdy Links posts this weekend!
Photoshop Tutorials
Thirsty? Make some Orange Juice! In Photoshop! 🙂
Digg Tools
Freebies!
Really nice hand drawn Icon set! I like a lot! Well Done!
PSD to XHTML tutorial
So what exactly do those PSD to XHTML sites do with your psd file? Basically this. Pretty much any web developer can do it, but the quality of how they do it varies! Check out the workflow behind it.
Nerdy Techy Resources
Some Cool Web Tools for Tech Savvy Families to take advantage of.

Really REALLY really. In depth buide on compressing video for YouTube. Jeez. Really in depth.