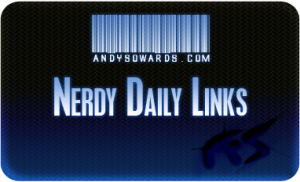 Well The week is in full swing at Daily Nerdy Links posts! I hope all you Subscribers are having a great week and are learning a lot of good stuff! Today is going to be a busy day for me now go and learn from those nerdy web techy web developer/designery Resources! Enjoy your day!
Twitter Stuff
Get a custom twitter background for free! If you don't already have one that is. 🙂

Some nice Twitter Backgrounds!

Good guide to getting Retweets!
Flash Tutorials
Good place for flash tutorials!
Directory of API's
1,000+ APIs are already available for mashups, opportunities are mind-blowing!
Web Developer/Designer Inspirations
Really awesome collection of new creative advertisements!

Directory for Web Design sites! Add yours if its relevant!

a To Do list for Web Designers!

Cool t-Shirt Design Trends!

Really nice CSS Border Ideas

Another great collection of sites, Really like the Vector Landscape ones!

Really amazing collection of some nicely doodled websites 🙂

An experiment in social design.
Font Creation Tutorial
Really amazing tutorial on how to design a font.
Uber Facebook List
Uber Facebook List, Get on it, and Add me!
Best Tutorial Sites
The BEST source to find all the tutorials you need!
WordPress Stuff
Don't read too much, you'll start drooling over 2.7 and have to stop everything. haha.

Amazing Collection of Free WordPress Grunge Themes!
Contests
Submit Your Design Today!

Comment on this post to win some cool Flash 3D Spiral Stuff!
Designer Interviews
Designer Interview!!

Another Designer Interview from Fuel Your Creativity
Business/Marketing
Now this is just good to know. I don't care who you are.

Take some steps in the right direction with your Social Media Marketing

Tips that make Adsense Work!
Freebies!
This is the motherload of icon sets.

Another cool Social Network Icon Set!

Ultimate list of Big, Nice, Glossy Social Network Buttons, Good Find!
CSS/Javascript/jQuery Stuff
Yet Another Tabbed Tutorial, at least you get variety 🙂

A look into FaceBox.

Create a nice menu effect with MooTools
User Interface(uI)
Nice Article on the signup/account creation process of web sites.
Best Of
Another really great roundup of some great resource collections that came out this week!

Web Development/Design Nerdy Daily Links For 11/03/2008 – Really great weekend, Very Productive! AndySowards.com has been featured on naldzgraphics.com this week, really honored to have the shoutout. I hope you guys have gotten a lot out of Daily Nerdy Links posts this weekend

Really good collection of the best of October, seen a lot of these lately, good stuff!
Web Tools
Cool info for DropBox, an easy way to sync and share files via the web